By Fr. Francis Pizzarelli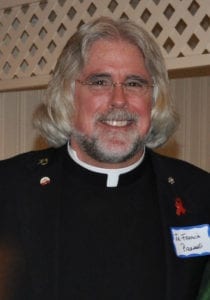 The holiday season is quickly coming to a close. The Village of Port Jefferson and our larger community are especially beautiful with lights, wreaths and a wide range of holiday decorations. I also feel there is a different energy in the air. There seems to be a more positive spirit this year than in the years past. I actually saw people who didn't know each other greeting one another and holding the door as they walked into a store. It was really amazing.
There is a part of me that wants to bottle that positive energy and release it when things start to inch back towards the darkness. However, I realize each one of us has the power to keep that positive energy going one person at a time utilizing random acts of kindness and just mutual words of encouragement and welcome.
The world is profoundly paralyzed. Our government and other governments around the world have become disturbingly ineffective and disconnected from the real pulse of the people. No matter what one's race, religion, creed, sexual orientation, or socioeconomic status, most people just want to get along; to live with mutual respect with one another.
At the end of the last semester at St. Joseph's University where I have taught for more decades than I want to admit, I asked one of my freshmen that exact question. He paused for a moment and said, "we have to stop judging people by externals, stop judging a book by its cover. We must be more willing to pull the onion skin down to the core."
His response was amazing. It sounds so simple but in reality, we make it so complicated. If we could only judge less and love more, how much better the world would be. Hopefully, the next generation will have the courage to do exactly that and not get sucked up into all the garbage and nonsense.
For more than a decade now, I've had the privilege of teaching graduate student social workers at Fordham's graduate school of Social Service. I teach clinical practice and a human rights and social justice course. Most of my students are second year, chomping at the bit to graduate. Every week they inspire me to stay my course and strengthen my love for clinical social work and advocacy. Their passion for wanting to make a difference is inspirational. I pray that their positive energy and enthusiasm is not impaired by the crazy world that we live in.
 We need them because they really believe that change is possible. They really want to make a difference in the world and make it a better place. I hope their energy and enthusiasm becomes contagious. It genuinely has energized me to stay the course and to continue "to be the change you wish to see in the world." — Mohandas Gandhi
Father Francis Pizzarelli, SMM, LCSW-R, ACSW, DCSW, is the director of Hope House Ministries in Port Jefferson.