Plain Talk: The power of human connection
By Fr. Francis Pizzarelli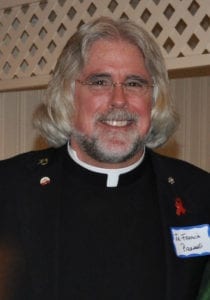 It's hard to believe that another holiday season is upon us. Thanksgiving has passed. Our towns and villages are decorated with bright lights and wreaths. The season of hope is upon us again! 
If we ever needed to have our hope renewed, it is this season. Our nation is divided and profoundly wounded. Families are fractured because of our polarizing politics. Hatred and discrimination seem to be on the rise or at least more overtly expressed. People are obsessed with headsets, ear buds and iPhones. Human communication is impaired and healthy human connections are at an all-time low.
However, despite this dark landscape, hope and compassion still live. Every day I am privileged to witness random acts of kindness that are transforming our world one act at a time.
A local high school student recently had a collection for Pax Christi and filled two big cars with things for the poorest of the poor.
Christmas Magic, founded by a local attorney more than 25 years ago, continues to bring hundreds of volunteer high school and college students and adults together to make Christmas happen for thousands of Long Island children who otherwise would not have a Christmas.
It continues to amaze me how many local faith communities sponsor holiday season drives for various not-for-profit charities. It is beyond words how much love lives among us.
Every Tuesday I take the Long Island Railroad to New York City. I then take the train at Penn Station to Columbus Circle and walk to Fordham University's graduate school of social service at Lincoln Center. I teach graduate school social work there.
For more than a dozen years that has been my Tuesday routine. I have always been struck by the number of people who are struggling and living on the streets of New York. They are not a particular color, ethnicity, sexual orientation, religion or age. Homelessness knows no specific profile. It potentially can touch anyone of us without warning.
There is a particular man who sits right at the corner of 60th St. and Eighth Avenue; he's been there for months. He has a knapsack and some very tattered clothes that he wears, nothing more. He sits on a crate and has a sign in front of him that says he's homeless asking people to help him. It says that he has no family.
About a month ago I stopped to give him something. I said, "I wish it could be more." His response was, "Thank you for treating me as a person and acknowledging me. It means more than you will ever know."
It wasn't the money but the human connection and acknowledgment that made the difference to that street person. I shared that story with the congregation that gathers every Sunday at the friary in Mount Sinai.
A few days later a young man in early recovery gave me a little lime green bag. It was filled with treats, a hat, scarf and gloves. It was for my homeless friend. He, his significant other and their 3-year-old son made the bag and asked if I would give it to the homeless man from them and wish him a happy Thanksgiving. I did that on the Tuesday before Thanksgiving. He smiled from ear to ear and mouthed the words thank you as I hurried to class. I will always remember his eyes and his facial expression!
Fr. Pizzarelli, SMM, LCSW-R, ACSW, DCSW, is the director of Hope House Ministries in Port Jefferson.