By Fr. Francis Pizzarelli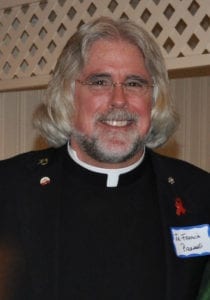 The holiday season is quickly unfolding right in front of us. It's hard to believe that another new year is almost here. 
We are so polarized as a world and troubled by the war between Israel and Hamas; impacting Israelis and Palestinians as well.
Our world is so infected with hate, violence and discrimination. The world is bleeding with no real healing in sight.
Constantly, I hear people complain about how selfish and self-centered the world has become. However, I've recently seen a different world. 
On November 1, I finally had the hard cast removed after six weeks. I felt so good to be liberated as I walked out of the surgeon's office like a new person. I have been struggling with my knee and a tendon repair for almost a year due to a ski accident last year.
On my third day of liberation, I ended up back in the hospital due to an infection. Thankfully, the infection was contained. After a week and a half of intravenous antibiotics, I was able to walk out of St. Charles Hospital slowly and very carefully.
I went back to teaching this semester at St. Joseph's University and Fordham University. I also usually teach a class at Suffolk Community College but due to poor enrollment my regular class was canceled.
It was great being back with my students. It's the end of the semester and I returned just in time for final oral presentations. At Fordham, my graduate students were finishing their final papers.
I love teaching. I love my students. Every semester, I learn something new from my students. My graduate students inspire me to stay the course by their powerful commitment to wanting to make a difference and serve others.
Since coming back to school, especially graduate school, it has not been a walk in the park. To protect me from falling, I have my good friend Ethel my walker to keep me balanced.
Everyone complains about how violent the world is especially New York City. I have been teaching on Tuesdays at Fordham University for almost 20 years; I have never seen a violent act. To the contrary, I have seen compassion.
Every Tuesday I take the 5:38 AM train from Ronkonkoma. It is an express train to Pennsylvania Station. Whether I'm getting on the Long Island Railroad or getting on the subway, immediately someone pops up to offer me a seat or to assist me; it has amazed me beyond words, especially since I'm not dressed as a priest.
On the contrary, some would say I look like a homeless man! I am forever grateful for those random acts of compassion. Holiday blessings, Merry Christmas and Happy New Year.
Father Francis Pizzarelli, SMM, LCSW-R, ACSW, DCSW, is the director of Hope House Ministries in Port Jefferson.