By Fr. Francis Pizzarelli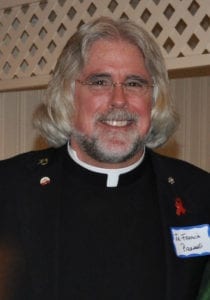 It is hard to believe that summer is over and another school year has begun. This year the landscape for the opening of the new school year has been marred with another mass shooting and Hurricane Dorian, which has paralyzed the south eastern part of our country.
Schools around the country are beginning a new school year with intense anxiety around gun violence and the country's inability to come up with reasonable, effective gun safety regulations that protect people's safety and people's Second Amendment rights.
The lack of decisive leadership on the part of those we have elected to lead is scandalous. The lack of clarity and the profound silence from the White House is deafening and shameful. Gun safety should be a priority issue that should not be buried in the political rubble of partisan politics. People from both sides of the aisle should be able to come together and pass legislation that protects the quality of life for all Americans. If they cannot, then simply vote them out!
As an educator and mental health professional, it troubles me deeply how those who lead us are quick to blame the mentally ill for all of our mass shootings. Every mass shooter has not been mentally ill. Yes, a number have, but our system for support of those battling mental illness at best is poor and honestly is so broken and fragmented that de facto it is useless.
We have an insurance system that sets people up for failure; when it should empower people to wellness. We must address the stigma we impose on people who need help with mental health issues and/or addiction issues.
Finally, we are holding the big pharmaceutical companies accountable for fueling the opioid epidemic. Will any of those billions of dollars be directed to long-term residential treatment or will they get lost in a bureaucracy that has lost its way?
We have to have the courage to do things differently, and the new school year is an excellent opportunity to live differently. Education is a gift, and our children should learn early on what a tremendous opportunity is being given them. Attending class, doing homework and excelling should be everyone's expectation. We need to hold our children accountable; as parents we need to collaborate with teachers and school administrators to create the most life-giving environment for all of our children to grow and excel.
We also need to be concerned about our children's social behavior. It is troubling that a growing number of our children in junior high school through college age spend more time on social media and texting than they do on face-to-face human communication and studying.
Ask your junior high and/or high school student if he or she could give up his or her cellphone for one month. Most will tell you no! Remember life before cellphones and social media? This present generation is not learning how to effectively communicate and build healthy human relationships.
One last concern as the new school year begins — vaping, e-cigarettes — are a new health hazard. Don't be brainwashed by advertisements to believe that e-cigarettes and vaping are an excellent deterrent to smoking. They are not! Our children are not just vaping their favorite flavors, but cannabis.
These are not social behaviors that are healthy for our teenagers and young adults to indulge in. We need to take our blinders off and do our homework if we genuinely care about our children.
Fr. Pizzarelli, SMM, LCSW-R, ACSW, DCSW, is the director of Hope House Ministries in Port Jefferson.