Plain Talk: Challenges can become opportunities
By Fr. Francis Pizzarelli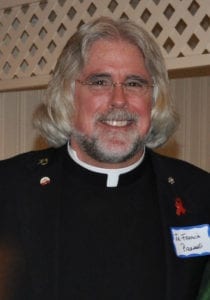 School has just begun. In our county, we have a wide range of educational opportunities and experiences. Each school district is attempting to respond responsibly to all families and their children. That is a very complex and challenging dynamic because every school community is so vastly different.
It continues to amaze me that very simple and basic practices that are evidence-based are so complicated to embrace for a number of people in our midst. We have allowed our destructive political rhetoric to impair our common sense and basic efforts to support some very basic common-sense practices that protect all of us.
My college students both on campus and online are an inspiration. They are open and insightful. They are hungering to learn and genuinely make a positive contribution to our community that will make a profound difference in the future.
This pandemic is a powerful opportunity for us to draw closer together. It's an opportunity to build new bridges of understanding and compassion. It's an opportunity to challenge the bigotry and hatred that has become so infectious.
These are challenging times. We can look at these challenges as burdens that are burying us under or we can see them as opportunities for change and transformation. There are so many life lessons to be learned, if we have the courage to take the blinders off and listen.
We will never return to the life we once knew before the pandemic. However, we have an opportunity to create a new tomorrow that is rich with opportunity and possibility that can be life-giving, if we have the courage to live differently.
There are so many life lessons to be learned. This pandemic has brought families together. People are talking and connecting in ways that were never imagined. Many of us have had to rearrange our priorities. A growing number of people have become more other-centered than self-centered. I have witnessed countless random acts of kindness that have changed people's lives.
It has been refreshing to listen to the next generation of leaders talk about making tomorrow's America better and stronger, more inclusive and respectful; a place where diversity and difference are seen as a blessing and not a curse.
The America that my students speak about is an America filled with promise and opportunity for all, grounded in a respect for the dignity of every human person. It is an America that will not tolerate hateful rhetoric; that will respect people's right to peacefully protest injustice and give voice to the voiceless. It is an America that empowers every citizen to dream dreams and believes those dreams can come true.
Fr. Pizzarelli, SMM, LCSW-R, ACSW, DCSW, is the director of Hope House Ministries in Port Jefferson.