Eye on Medicine: SBU's School of Medicine renamed
New name honors long-standing support from

 

Renaissance Technologies families
By Kenneth Kaushansky, M.D.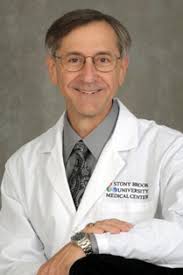 There's an old adage that things get better with age: The relationship between Stony Brook University and the families of Renaissance Technologies is certainly proof of that, having maintained a close connection for more than 35 years.
Throughout the years, 111 families at Renaissance Technologies have donated more than $500 million to the university. Now in recognition of their contributions and generosity, Dr. Samuel L. Stanley Jr., Stony Brook University president, recently announced that Stony Brook University School of Medicine will now be known as the Renaissance School of Medicine at Stony Brook University. This new name was recently voted on and approved by the board of trustees of the State University of New York. 
The relationship began in 1982 when Jim Simons, the former chair of the Department of Mathematics at Stony Brook University, made a $750 unrestricted gift to the university's annual fund, becoming the first at Renaissance Technologies to contribute to the Long Island institution. 
Since that time, current and former employees of Renaissance Technologies and their families have donated more than $500 million to date in support of Stony Brook's students, faculty and primarily research in life sciences and medicine. This significant investment has improved the quality of medical education at Stony Brook, creating 34 endowed faculty chairs and professorships, nine innovative academic and research centers and $35 million for student scholarships and fellowships.
Gifts have supported areas where the personal interests of the Renaissance families intersect with the strategic investment needs of the university, such as Stony Brook Children's Hospital, basic science research, imaging, health care for those who are underserved, cancer research, medicine and the Staller Center for the Arts.
This incredible engagement by Renaissance employees and their 111 donor families — very few of whom attended our university — has created a true "renaissance" at Stony Brook. 
As dean of the School of Medicine, I'm so proud that our school will carry their name in recognition of the excellence they've helped create at Stony Brook. During the Campaign for Stony Brook alone, more than 72 Renaissance Technologies employees and their families donated $166.5 million that directly benefited Stony Brook Medicine and the School of Medicine and a total of over $400 million to the university as a whole. 
The Renaissance School of Medicine is the top-ranked public medical school in New York State and ranks 57th in the nation, according to U.S. News and World Report. 
A member of the Association of American Medical Colleges (AAMC) and a Liaison Committee on Medical Education (LCME)-accredited medical school, the Renaissance School of Medicine was established in 1971. With 25 academic departments, it trains over 500 medical students and more than 750 medical residents and fellows annually.
The investments in medicine and throughout Stony Brook by Renaissance families have transformed the university and the communities it serves by deploying the most inventive new solutions to the most important issues of our time. 
And as the years go on, things will only get better as their contributions ensure continued access to groundbreaking medical treatments and leading-edge, innovative medical care for the residents of Suffolk County and beyond.
Kenneth Kaushansky, M.D., is the senior vice president of Health Sciences and dean of Renaissance School of Medicine at Stony Brook University.