Between You and Me: Yes, Virginia, even New Jersey has a Santa Claus
By Leah Dunaief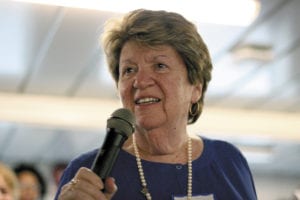 The conversation in a New Jersey classroom of first-graders got around to the subject of Christmas, and the substitute teacher unleashed a bombshell. She told them that Santa isn't real, that parents just buy presents and put them under a tree. On a roll, she didn't stop there. Reindeer can't fly, she advised the students, elves are not real, the elf on the shelf is just a doll that parents move around, there is no tooth fairy and no Easter bunny, either. She summed up with the news that there is no magic anything and that magic doesn't exist. Whoa!
This made the top of the news earlier this week for CBS, NBC, Fox, USA Today and other major news outlets. No one, as far as I know, has interviewed the children to get their reactions, but the school superintendent and the principal were moved to speak, as the district apologized to the parents.
Montville superintendent of schools, Rene Rovtar, was "troubled and disheartened by the incident." Cedar Hill Elementary School principal, Michael Raj, sent home a message to the parents in which he mentioned the "poor judgment" of the teacher and asked parents to "take appropriate steps to maintain the childhood innocence of the holiday season." At least one parent, Lisa Simek, took to Facebook, expressing dismay. She urged that Christmas magic is real and expressed through acts of kindness, love, positivity and grace — from and for loved ones and strangers. The superintendent added, "The childhood wonder associated with all holidays and traditions is something I personally hold near and dear in my own heart."
We don't know how the children reacted, but we certainly know how upset the adults are. And we have not been told if the teacher will be allowed to substitute again. How should we react to this?
On the one hand, we know that the idea of Santa Claus brings joy and excitement to children and therefore to the adults around them. This is hardly innocence exploited by adults but rather an opportunity for adults each to be Santa, to be their best, most generous, most loving selves. While the person of Santa is a fiction, the embodiment of all that Santa stands for most surely is not. Fictional characters can provide inspiration for the lifetime of a child as he or she grows up. Intergenerational mythmaking exists in many contexts, not only to entertain but also to inspire.
Children sooner or later catch on, especially when they see 20 Santas walking down the street together on their return from their Salvation Army posts. But on the other hand, how do children feel when they realize the adults around them have told them untruths? If they go to school expecting to believe what they are taught there, should the teacher acquiesce in mythmaking? For sure, this teacher handled the situation with poor judgment. It would have been far better for her and the children had she told them to ask their parents about the magic of Santa. For whatever reason, she did not do that.
How did you feel when, as a child, you learned that Santa was a story made up by the adults closest to you? Did you understand the greater good embodied in the concept or were you left to distrust on some level whatever those adults might subsequently tell you? Does misleading a child bring psychological questions into play?
It did not negatively affect Virginia O'Hanlon, who asked that question of her father when she was 8 years old in 1897. She said the answer inspired her for the rest of her long life. Her dad told her to write to The Sun, a prominent New York City newspaper, and added, "If you see it in The Sun, it's so." The Sun's hard-bitten, cynical editor, Francis Pharcellus Church, wrote the answer that turned into the most reprinted editorial over the next century in the English-speaking world: "Yes, Virginia, there is a Santa Claus."