By Daniel Dunaief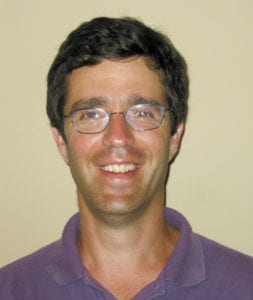 We have friends who live close to us who are pregnant. Okay, that sounds weird, right? She's pregnant, and he looks sheepish, like he's not sure what's coming.
That's not entirely fair. He was socially awkward before he brought his small package of genetic material to the pregnancy party. Why would anyone imagine he would be any different in the months before he makes a head first dive down the rabbit hole into the wonders and challenges of parenthood?
Now, if their families are anything like others I've known, they are bound to have a wide range of pre and post delivery discussions.
"Are you going to name the baby after my side of the family?"
"Make sure you put sugar, spice and everything nice in the crib or the baby will become colicky like your Aunt Michelle. She was one of the most miserable babies we've ever seen and that's because her mother forgot about the sugar and spice under the crib."
One of the most fascinating and sometimes confounding parts of the baby discussion, which can extend well into the years that follow, is the family credit for various traits.
To wit, "He's incredibly serious and focused just like his Uncle Oswald. That Oswald was a man with a purpose from the time he was born, just like your little baby Joey."
Or maybe, "Morgan has the same broad smile, laugh or sense of humor as her Aunt Carol."
Each family can dig in, sharing ways that the developing child has characteristics they are convinced come from one side of the family, often from the speaker who has a proprietary interest in propagating the enduring myth of a family heritage.
Such talk suggests somehow that heredity is much more important than environment. The credit can go beyond physical characteristics such as long eyelashes, rounded shoulders, or sparkling eyes: they can include artistic talent, an ability to relate to other people, or a proficiency for languages.
That somehow seems un-American. After all, we the people generally believe that hard work can help people become proficient in any area, developing the kind of talent that differentiates them in their field and allowing them to control their destiny.
Such strong genetic links, while providing an appealing way to connect to ancestors and to those who aren't around to smile and play with their descendants, is akin, if you'll pardon the pun, to linking someone's last name to their profession.
"Oh, the Jones family? Sure, they all became teachers. The Berringtons went into the clothing business, while the Shimmers all became dentists. They all have such gifted dental hands."
Such blanket statements about where someone's exceptionalism originated also throws the other sides of the family into the shadows, as if their only role were to ensure the ongoing survival of the dominant and more important family tree.
Family trees, however, like the trees that people decorate around this time of year, have bilateral symmetry, with people decorating each side in popcorn, cranberries and/or holiday lights.
Rarely does anyone do a deep dive into the other side of a family, learning whether the Jones family had faster legs, a quicker wit, better grades or a stronger work ethic.
Then again, the point of these claims isn't to be scientific, thorough or even fair. It's a way to connect the children of today with those who came before. Even if people don't believe in reincarnation, focus on genes, or contemplate the enduring qualities of any family culture, they might feel tremendous joy and comfort hoping that this person's unwritten life includes future chapters that reflect a familial past that need not be exclusive to one branch, one side or one person.
Story weaving may help give a developing life context and meaning. Ideally, those attributes and connections may remind the family and this new person about the kind of strong and accomplished roots that can help him or her develop into the kind of person he or she chooses to be, which would be a win for everyone.