By Fr. Francis Pizzarelli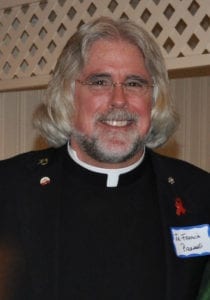 What will it take for the country to push the pause button and then reset? We are a nation that is out of control. The pandemic has only underscored how out of control we are.
We are losing hundreds of young people every day due to fentanyl, heroin and suicide. The nation has declared that we have a national heroin epidemic but what is being done to address this tragic health concern that is killing more than 100,000 lives a year?
Yes, we are making Narcan more available but what about holistic residential treatment beds? There are no beds anywhere. Yes, a few for-profit programs have emerged in the midst of this crisis but what about the working class and working poor? How do they pay for evidence-based treatment for their children?
No one wants to challenge the insurance empire that is sentencing so many of our at- risk people to death. It is scandalous that an insurance gatekeeper with no training decides whether or not your son or daughter gets treatment! So many of these gatekeepers are clueless about addiction; our silence in this regard is deafening
How many more young people have to die before we say enough? If human life is such a priority, then challenge our paralyzed leadership to work together for systematic change in the treatment of substance use disorder and mental health.
Our social welfare system in Suffolk County needs to be overhauled department by department. Instead of empowering the broken and wounded to healing and change, our system is setting people up for failure. Your tax dollars are being wasted on a system that is inept and incapable of breaking the cycle of poverty and dependence among the people they are supposed to serve.
For more than 40 years in the trenches I have seen firsthand our destructive system at work I have seen countless homeless men set up for failure because we have no real transitional housing for them. We do not have enough case managers and social workers to assist them for so many of them are mentally ill and dependent.
The state is once again using fancy rhetoric to trick us with their new initiative to keep troubled youth at home. These troubled youth are young people between the ages of 12 and 17 who already have stolen cars, assaulted people and some are even in dangerous gangs. We have few to no mental health services in our local communities to support these young people and their families.
The few programs that do exist are being forced to close; soon we will have no help and no resources for families in need.
We are blessed to have a dynamic commissioner of social services in Suffolk County in the person of Frances Pierre. She is a talented and gifted professional who is being shackled by a legislature that lack the vision and commitment to the most vulnerable and broken among us. Our commissioner needs to be free to do her job. We need to raise our voices in support of her!
Father Francis Pizzarelli, SMM, LCSW-R, ACSW, DCSW, is the director of Hope House Ministries in Port Jefferson.