Lawmakers want tobacco shops to back off
Local governments are cracking down on smoking in all its forms by confining related businesses to certain locations.
Brookhaven Town recently restricted smoke shops and lounges and one village is looking to strengthen rules already in place for the establishments.
The action started in the fall, when the Port Jefferson Village Board of Trustees passed a law that effectively banned hookah shops, as well as tattoo parlors and adult entertainment. Residents and village officials had been vocal about what they perceived to be too many shops on Main Street selling hookahs — water pipes used for smoking flavored tobacco — and their related products. Many had complained that the businesses attract an undesirable type of person to the area and sell unhealthy items. Some also said they feared the shops would sell paraphernalia and dangerous substances to underage patrons.
The dissent propelled a law that now restricts future hookah shops, tattoo parlors and adult establishments like topless bars to the Light Industrial I-2 District zone. While the preexisting shops are not affected, the law effectively bans future shops because only two properties in the entire village are zoned light industrial — and both of those Columbia Street plots are already occupied.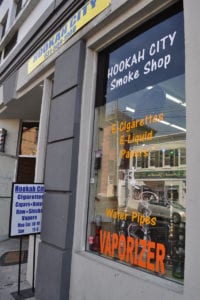 Passing an outright ban would have been an illegal action.
Port Jefferson Village is now seeking to tighten its restrictions by folding into the law marijuana dispensaries and stores selling products linked to e-cigarettes and vaporizers. The village code proposal, which will come up for a public hearing on June 6, states that such establishments bring "well-documented negative secondary effects … such as increased crime, decreased property values and reduced shopping and commercial activities." It also cites the health risks of e-cigarettes and the dangers of exposing children to the behavior.
"The expansion of the foregoing businesses has resulted in increased anti-social behavior involving minors," it says.
Among the restrictions, the shops in the light industrial zone could not be within a certain distance of facilities such as community centers, churches or schools.
The Town of Brookhaven got on the same train recently when its town board passed a law on May 12 that restricts indoor smoking establishments — businesses in which tobacco in any form, including through e-cigarettes and vaporizers, or other substances are smoked indoors. New shops can now no longer open within certain distances of residential areas, schools, churches, parks or other family- or child-oriented places. They also cannot open within 1 mile of one another.
Councilwoman Jane Bonner (C-Rocky Point), who came up with the idea, touted it as a measure to prevent kids from using drugs.
"You cannot believe how creative addicts and users are when it comes to situations like this," she said, "what they can do and how they can manipulate this apparatus."
Some have used hookahs, vaporizers and other tobacco devices to smoke marijuana, among other substances.
"This legislation came to pass because of what we see, what's happening in our communities all over the place," Bonner said. "This is a very important first step and we may take further steps as we see how this works out."
Both the town and village laws have had their critics. In Port Jefferson, Trustee Bruce D'Abramo and other residents did not want the village interfering with the free market, which would determine how many smoke shops one neighborhood could sustain, and did not want the village policing people's heath. They compared the smoke shops to the numerous bars in downtown Port Jefferson.
And Alex Patel, who works at Rocky Point Smoke & Vape Shop, said the town law might have little payoff because parents buy devices for their kids or the kids shop online — those under 21 may still get what they are looking for.
"Online, I see people buying left and right," Patel said about vaporizers and similar devices. "It's much cheaper online because they're buying in bulk."
But the town law also had community support: "When I think of these [smoking] lounges I think of heroin dens, something I read about and saw movies about when I was a child and scared the heck out of me," Jeff Kagan, of the Affiliated Brookhaven Civic Organization, said May 12. "I believe that we don't really know what these dens are all about or what's really going to go on in these facilities. We don't know the long-term impact."
Alex Petroski contributed reporting.