Between You and Me: Conversing with Renée Fleming, opera superstar
By Leah Dunaief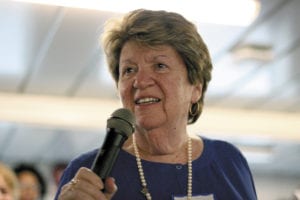 As befits a woman born on St. Valentine's Day, Renée Fleming grew up to become the sweetheart of the opera world. Possessing a powerful yet silky voice, great beauty and impressive acting skills, Fleming has moved from a single dimension to any number of new musical venues, with a major role in Broadway's "Carousel," singing the national anthem at the 2014 Super Bowl, and innumerable appearances on television, in movies and in concerts.
The opera diva will be the star attraction at Stony Brook University's Gala, the major fundraiser at the Staller Center March 2. I've long known about her spectacular professional career but thought I would like to know more about the person that she is, so I had a brief, 10-minute chat with her on the phone at a hotel in Barcelona, Spain. We were time-limited to protect her voice, which is as immediately recognizable when she speaks as when she fills the Metropolitan Opera House with glorious music.
Q: You are coming to Stony Brook to perform. Do you have some special connection with SUNY?
A: Yes, I went to SUNY Potsdam, and so did my sister and brother. My two nephews are at SUNY, so we are a fan club.
Q: You undoubtedly travel a lot. What do you do to keep yourself healthy and protect your voice during plane trips?
A: I try to stay hydrated, get enough rest. I live moderately and believe in mind over matter. And I do the same as others, trying to avoid those who are coughing on the plane.
Q: I believe you grew up in a musical family, your parents both being high school music teachers. Did you always want to sing?
A: It was the furthest thing from my mind! I loved horses, thought I might be a vet, or maybe the first lady president — which has yet to happen. I had ambition, was a very good student. I always wrote music growing up. But I never heard of a woman composer so that wasn't an option. I majored in music ed, my parents thought that was a good idea, went on to the Eastman School and Julliard. Then I fell in love with jazz.
Q: Do you get nervous when you are to
perform?
A: I was not a gregarious person, that wasn't my personality. I was shy. So that was one of the skills I had to learn.
Q: Do you have a favorite role or composer?
A: I'm not so much into favorites. Verdi, Strauss …
Q: Do you speak other languages?
A: Yes, I speak French, German, some Italian.
Q: Do you need to know those languages to sing in them?
A: No, there have been great singers who have not known the language they were singing in. You do not need to know the language but it is helpful.
Q: You have two daughters. How did you manage the work/life balance?
A: It's hard for a working mother. You never feel you are doing anything well. You have to manage everything. It's challenging. Fortunately I have a tremendous amount of energy and a great work ethic.
Q: Did you get that from your parents?
A: (Pauses.) Yes, probably.
Q: Do you ever have nightmares that you had forgotten your lines?
A: Yes, those kinds of nightmares like
everyone else.
Q: Did that ever happen?
A: No.
Q: Are your dreams set to music?
A: Hmm, I don't really know. 
Q: What else about music?
A: I'm working with the National Institutes of Health. When children are exposed to music early, their oral comprehension is increased. Studies have shown that.
A major passion of the opera superstar is the intersection of music, health and neuroscience. She is artistic adviser at the Kennedy Center and has launched a collaboration with NIH — the first of its kind between a performing arts center and the largest supporter of biomedical research in the world. She gives presentations on her concert tours with scientists, music therapists and medical professionals. She recently co-authored an article with Dr. Francis Collins, NIH director, for the Journal of the American Medical Association.
Be sure to come out for the fundraising Stony Brook University Gala Saturday night, March 2, at the Staller Center. You will not only hear fabulous music. You will see one of the 21st century's most remarkable
women.