WMHO presents annual Jewels & Jeans Gala June 19
This year is a special one for the Ward Melville Heritage Organization. Based in Stony Brook Village, the not-for-profit organization is celebrating its 80th anniversary of protecting and preserving historic and environmentally sensitive properties deeded to it by Ward Melville, whose philanthropic works and foresight are legendary.
Melville's visions for the Stony Brook area included the establishment of a world-renowned education institution, Stony Brook University (to which he donated 400 acres of land as well as personal funding); the protection of environmentally sensitive areas; educational and cultural programs; and the preservation of historic properties, dating back to the Revolutionary War, for present and future generations to experience.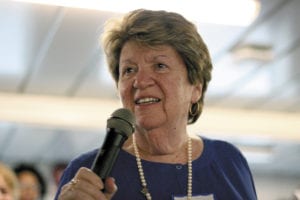 The celebration with kick off with its 11th annual Jewels & Jeans Gala at Flowerfield in St. James on June 19 from 6 to 10 p.m. honoring Katharine Griffiths, executive director of Avalon Park & Preserve in Stony Brook; Andy Polan, president of the Three Village Chamber of Commerce; WMHO trustee Anna Kerekes; and Leah Dunaief, editor and publisher of Times Beacon Record News Media.
The evening will feature a cocktail hour with entertainment by Tom Manuel and The Jazz Loft All Stars. An exciting night follows with dinner, meeting this year's honorees, raffles, a silent auction and a live auction. Prizes include a Lessing's Fine Dining Experience for three $300 gift certificates at Mirabelle Restaurant at the Three Village Inn, Sandbar Restaurant and the View Restaurant; dinner for eight by personal Chef Lance; a four-night stay for 10 at The Dome; a VIP stargazing experience at Avalon Park & Preserve; and one night ocean view room at Gurney's Montauk.
The fundraising goal for this 80th anniversary of the organization will be a net of $80,000. All proceeds will be used for much needed restorations to three of WMHO's historic properties, each of which is on the New York State and National Register of Historic Places.
The Brewster House, c. 1665, is in dire need of siding and chimney repairs; the Thompson House, c. 1709, needs extensive restorations to its chimney; and the Stony Brook Grist Mill, c. 1751, the most complete working grist mill on Long Island, requires repairs to the very intricate mechanisms that are still in use today.
Funds are needed as well to continue producing WMHO's 70-plus award-winning educational and cultural programs each year.
Tickets are $195 per person and sponsorships are also available. For more information, please call 631-751-2244 or visit www.wmho.org/jewels-jeans/.