Theater Review: The Engeman delivers a musical and emotional powerhouse with 'Once'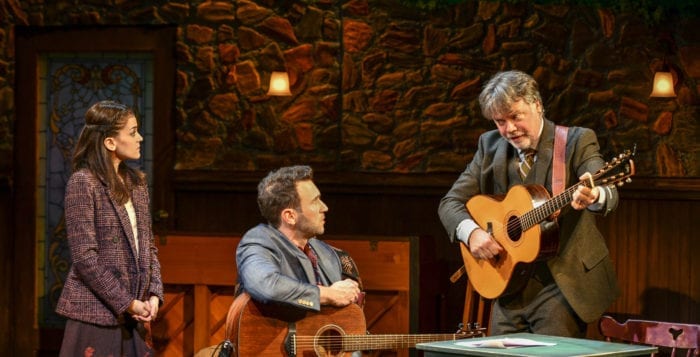 By Melissa Arnold
If you've ever fallen in love, had your heart broken or faced unfulfilled passion, you'll relate to "Once." And even if you haven't, the cast at the John W. Engeman Theater will still grab your heart and squeeze. The show, which is part of the theater's 11th season, is both unique and compelling. It's easy to see why "Once" grossed 11 Tony nominations and eight wins in 2012, its first year on Broadway. The show is a stage adaptation of the 2007 film of the same name that starred Glen Hansard and Markéta Irglová. Both versions were written and directed by John Carney.
Under the direction of the Engeman's Trey Compton, "Once" begins with a nameless street performer referred to as Guy (Barry Debois) singing a heartbreaking ballad about an ex-girlfriend. A bold and honest young Czech woman (Andrea Goss as Girl) overhears the song and immediately pesters him for the juicy details that inspired it. It turns out that Guy has lost his love of music since his old flame left for New York City. Performing just hurts too much, and he's ready to throw in the towel on his dreams.
But Girl won't hear any of that, and she's convinced that he'd win his love's heart again if he sang her that song. Their conversation is the beginning of an intensely passionate and emotionally raw week as the two write, rehearse and record songs together.
What makes "Once" stand out is its presentation, which you'll notice before the show even begins. Get there early and you'll find the cast on stage in the middle of a rocking pub party, Dublin style. They hoot and holler while they sing, play Irish tunes and dance on tables. The best part is that the audience is invited to go up and join them. The set includes a working bar that offers a single variety of beer, red wine and white wine for $10.
The musical performances in this show are also one of a kind, as there is no stage band providing accompaniment. Instead, each person in the 13-member cast also plays an instrument, and all of the songs are performed from memory, which is beyond impressive. To make it work, chairs are set in a semicircle around the perimeter of the stage. When a character exits a scene, he or she simply takes a seat, fading inconspicuously into the background.
They also function as their own stage crew, dancing and playing brief musical interludes as they carry props on and off the set. It's a bit hard to describe in words, but the overall effect is visually compelling and speaks to the incredible talent of this cast.
Both Goss and Debois are no strangers to "Once" — she was part of its recent Broadway run, while he was the music captain of the 2016 U.S. national tour. They bring to the show an intense realism you can hear in every note they sing. Guy's opening number, "Leave," and Girl's tearful performance of "The Hill," will leave you awestruck.
The members of the ensemble, which include "Once" veterans Elisabeth Evans (Reza), John Thomas Hays (Billy), Stephen McIntyre (Bank Manager) and Bristol Pomeroy (Da) among others, are every bit as talented as Debois and Goss. They put out a powerful sound with rich harmonies and tons of energy. During their a cappella performance of "Gold," you could hear a pin drop in the packed house. The standing ovation during the press night performance last Saturday night was well deserved.
The John W. Engeman Theater, 250 Main St., Northport, will present "Once" through March 4. Tickets range from $73 to $78 with free valet parking available. For more information, call 631-261-9700 or visit www.engemantheater.com.