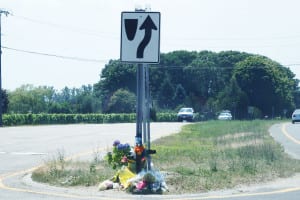 By Phil Corso & Alex Petroski
Story last updated 3.17.16, 8:15 a.m.
A fatal crash was the result of a limousine's dangerous U-turn at a busy intersection in Cutchogue, and on Wednesday, a special grand jury placed the blame on the driver.
Carlos F. Pino, 58, of Old Bethpage, surrendered to police Wednesday and was arraigned on four charges of criminally negligent homicide, four counts of assault, failure to yield the right of way, reckless driving and other traffic violations, Suffolk County District Attorney Tom Spota said. Pino was attempting a U-turn near the intersection of Depot Lane and County Route 48 on July 18 when Steven Romeo, 55, of Peconic, T-boned the limo, killing four and injuring six.
The crash killed Smithtown's Brittney Schulman, 23, and Lauren Baruch, 24, as well as Stephanie Belli, 23, of Kings Park, and Amy Grabina, 23, of Commack, who were all riding in a limousine in the middle of a weekend wine tour on the eastern part of the Island. The collision also injured passengers Joelle Dimonte, 25, of Elwood, Melissa Angela Crai, 23, of Scarsdale, Alicia Arundel, 24, of Setauket, and Olga Lipets, 24, of Brooklyn. Romeo, the DA said, was operating the truck under the influence of alcohol and was charged with driving while intoxicated the day of the crash.
Pino pleaded not guilty to the charges on Wednesday and was given a cash bail $50,000 and bond of $100,000. His next court date was scheduled for April 19. Romeo also pleaded not guilty to two counts of driving while intoxicated and one charge of driving while ability impaired by alcohol on Wednesday and was released with his next court date set for April 26.
"I think they may have been somewhat surprised," Spota said when family members of the victims were notified that Pino, and not Romeo, would be indicted as a result of the crash. "They either expected that it would be the other way around, that Romeo would be the party who would be completely at fault, or perhaps it was just a totally unavoidable accident. Indeed, what the grand jury has found out is that it was totally unavoidable, only as to Romeo, but not as to Pino."
At the scene, Pino had told police he did not see any oncoming traffic, Spota said. But the subsequent investigation revealed why.
The county had been investigating the crash over recent months, and on Wednesday, the DA announced that while Romeo may have been driving while impaired, the risky U-turn still made it nearly impossible for the collision to be avoided. The grand jury conducted a five-hour investigation of the crash and found that Pino had "limited sight lines looking into westbound traffic" because a Jeep Liberty was positioned in the intersection waiting to turn left onto Depot Lane, Spota said in a statement.
Spota said the Jeep Liberty "completely blocked the limo driver's view of the oncoming traffic in the main travel lanes." And despite the fact that the main westbound travel lanes were not visible, the DA said Pino failed to take any precaution to make sure he could safely enter the westbound travel lanes and he continued to make the U-turn.
"A perfectly sober Steven Romeo could not avoid this crash. An intoxicated Steven Romeo could not avoid this crash. It was simply unavoidable from Romeo's perspective," Spota said. "Romeo can be held criminally responsible for driving while intoxicated but he cannot be held criminally responsible for the crash."
Related: Vineyard visit ends in tragedy for Commack, Smithtown West grads
Southold Police Chief Martin Flatley said during the press conference that unfortunately many limo drivers exiting Vineyard 48 in Cutchogue try to make the dangerous left U-turn that ended up being fatal, because it is the fastest route to head back west.
"There are other ways to head back west, but that's the easiest way for them to do it," Flatley said.
There is now a traffic light at that intersection, Flatley said.
Spota said Romeo was heading west at about 55 miles per hour when the crash occurred. He did not see the limo enter the intersection until he was about 200 feet away, the district attorney said.
"Mr. Romeo had only 200 feet to react to the hazard he saw, and stop his vehicle," Spota said. "Traveling at 55 mph, it would have taken 1.6 seconds to perceive the limo in his path, to realize he must apply his brakes, and then to begin braking.  This would leave Romeo with even less distance, 129 feet, to avoid a crash — impossible for him to do. In fact our experts tell us that at 55 mph it would have taken anyone 263 feet to stop and avoid the crash."
After investigating the crash, Spota said the incident was "unavoidable," thus keeping a grand jury from indicting Romeo for vehicular manslaughter or criminally negligent homicide.
Belli, Baruch and Schulman were all decorated members of the national and language honor societies by the time they graduated from Smithtown High School West. Over the summer, schools Superintendent James Grossane said Belli, a 2010 graduate, had an infectious smile and was an enthusiastic student and member of the district's championship kick line team. Baruch, a 2009 graduate, was best known for her booming laugh and unforgettable smile, Grossane said. Schulman, he said, was another 2010 graduate and had a profound love for her family.
Grabina graduated in 2010 from Commack High School and went on to pursue accounting at Florida State University, ultimately landing a job at Ernst & Young in Tallahassee, Fla.