By Fr. Francis Pizzarelli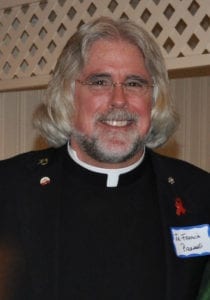 Recently District Attorney Tim Sini (D) announced a new initiative to combat the drug epidemic ravaging Suffolk County. The Comprehensive Addiction Recovery and Education Program, or CARE Program, allows nonviolent defendants with substance abuse disorders a full dismissal of chargers if the person successfully completes a 90-day treatment program. It was designed by prosecutors, defense attorneys and court officials.
This initiative is definitely a positive step in the right direction. As someone who has provided outpatient and residential treatment for addictions for more than 25 years, I am deeply concerned that this effort lacks substance and appropriate resources for those struggling with substance abuse and mental health issues.
Many of our judges have already been open to alternative sentencing for nonviolent drug offenders. 
There are some important facts that seem to always get buried when this important issue is raised. These are facts that the public should know. 
First and foremost, we do not have nearly enough detox and/or residential treatment beds.
And insurance no longer covers a full 28-day stay in a residential treatment program. At best, most will only cover 7 to 11 days. That is unconscionable. More tragically, many insurance companies tell those battling chronic addiction "try outpatient treatment first — fail at this then we will pay for residential care."
A growing number of young men and women are trying outpatient treatment first and are failing in record numbers. They are dying! What is very disturbing is that few to no voices are crying out about this horrific human atrocity.
Evidence-based treatment grounded in competent research states that the chronic opioid and heroin addict needs long-term residential treatment if long-term recovery is the hope for outcome.
Presently in Suffolk County we have two programs that provide more than three months of care. Only one program is not insurance based.
So the CARE initiative is a great step forward. Let's not set those struggling with addictions within the criminal justice system up for failure because we lack the comprehensive and competent resources to make the CARE Program an effective tool on one's road to recovery and wellness.
Unfortunately, outpatient programs have very limited success with chronic drug abusers. Do some enter and sustain health recovery? Yes, but a growing number fail.
As one local religious leader, I have presided at way too many funerals for young people who have died senselessly around addiction. In the past three weeks, I have had three young adults with tremendous potential lose their lives because of overdosing on heroin. I have talked with many of my colleagues in religion who are burying a record number of young people within their own faith traditions. 
Actions speak louder than words. The violence of our silence is contributing to this national health crisis. Change and transformation is possible. I live among these miracles everyday.
Fr. Pizzarelli, SMM, LCSW-R, ACSW, DCSW, is the director of Hope House Ministries in Port Jefferson.