Plain Talk: A pilgrimage of spirit and hope
By Fr. Francis Pizzarelli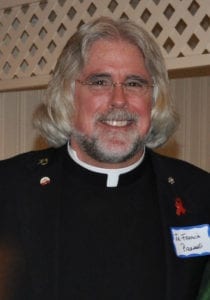 This month's column was written outside the walls of the old city in Jerusalem, Israel. I was leading a pilgrimage with 74 Americans mostly from Suffolk County, a few from New Jersey, a few from Maryland and a few from Tennessee. We were clearly a very diverse and unique community of people.
Since arriving in Israel, the weather had been sunny and in the 50s which is unusual for early January. A pilgrimage is not a vacation but rather an opportunity for inner reflection, discernment and of course fun human interaction.
Our days consisted of rising early in the morning, having a hearty Israeli breakfast and visiting sites that were more than 2000 years old. Our Jewish guide was brilliant; he knew more about Catholicism and Christianity than most Christians.
Every day we would celebrate the Eucharist in a holy place: Bethlehem, Gethsemane, Peter's house, Bethany and the Holy Sepulchre to name a few. After a full day of exploring, learning and celebrating, we returned home to a wonderful dinner. After dinner, for those who were interested, we would gather for "Caring, Sharing and Singing."
Each night more than three quarters of the community would gather for the post dinner sharing. The focus of the sharing would be something that touched them about the day. Some talked about powerful experiences, others spoke about healings that occurred from experiences that were buried long ago, still others talked about the transformation and the peace that took place in the various places that we visited. 
All of this sharing in the midst of songs that range from the 60s to the present moment caused us to laugh and most importantly remember.
Our theme for this year's pilgrimage was "Hope and Transformation." Our group consisted of a Jewish man married to a Catholic woman, a number of nondenominational Christians, a number of nonpracticing Catholics and some very serious-minded Catholics.
What developed among us was a profound community of faith. Many rediscovered Jesus in their lives. We came as 74 strangers and left as a community of friends on the same journey struggling with the same issues seeking to do our best with what God has blessed us with.
Since 2008, I've been privileged to lead pilgrimages to Israel. There has never been a group that I did not leave feeling more enriched, more willing to stay the course especially in the difficult work that I do and have done for more than 40 years.
This was my first pilgrimage since the pandemic. There was an energy with this group that was very different from my past pilgrimages. We were fairly large, very diverse in age, career and religious practice. However, what I was blessed to see was a strong bond that formed and transcended all of our differences-that focused on faith and hope in making the world a better place.
Although I came home exhausted, I came home with a renewed spirit, a renewed sense of hope despite the landscape of divisiveness and the renewed belief that we can make a profound difference one person at a time. Shalom.
Father Francis Pizzarelli, SMM, LCSW-R, ACSW, DCSW, is the director of Hope House Ministries in Port Jefferson.