D. None of the Above: Competitive people get stuck in an elevator
By Daniel Dunaief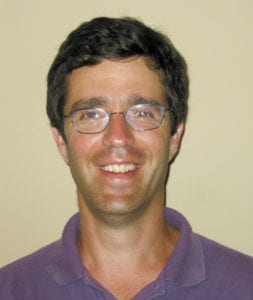 Four people get into an elevator together. They kind of recognize each other, but they're not sure so they smile politely and nod. They're all going to the 7th floor. On the way up, the elevator gets stuck. Mr. B, the baseball coach, looks at his watch and shakes his head. Ms. S, the soccer coach, paces back and forth, as if she's blocking a goal. Mrs. V, the violin teacher, closes her eyes, taps her feet and imagines the rhythm of a Mozart concerto. Mrs. Jones tries to text her three children, but the elevator doesn't get any cell service.
"This shouldn't take too long," Mr. B offers hopefully. "I've been stuck in elevators, had rain delays and all kinds of problems in the past. We'll be fine."
"Oh, hey Mr. B," Mrs. Jones says, her voice shaking a bit. "It's me, Joan Smith. I'm John's mom."
"Right, right, I knew you looked familiar," Mr. B says. "Did John have a chance to go hit in the cages like I told him to?"
"No, well, he had a violin lesson, so he couldn't," Mrs. Jones replies. "But I know he wants to and he'll get to the cage this weekend."
"This weekend?" Mr. B sighs. "By then the big game will be over."
"So, you're the reason John couldn't concentrate during his lesson," Mrs. V says, as her foot stops and she swivels to face Mr. B.
"Excuse me?" Mr. B says, crossing his arms over his chest. "John has been slumping recently and we need him to start hitting again. He has tremendous potential and we'd like to see how far that will take him."
"Wait, John Jones?" Ms. S asks, turning to the group. "John is a fantastic goalie and we need him for our club game this weekend."
"I thought soccer was a fall sport," Mr. B sighs.
"Right, and baseball is a spring sport and yet during our busiest season, John seems to sneak away for extra hitting and throwing," Ms. S says.
"Well, he needs to practice all year round. What's he going to do with soccer?" Mr. B adds.
"You're kidding, right? You think he's going to play baseball in college?" Ms. S asks.
"Does anyone have any idea how talented he is on the violin? Have you ever heard him play? He is way ahead of his peers on the violin and could easily play at a much higher level," Mrs. V says.
"He never talks about the violin with me," Mr. B says, unfolding and refolding his arms.
"Would you be interested in hearing about it? Do you think he's figured out that you might not be a receptive audience?" Mrs. V adds.
"Now, come on, think about this: John gets to play soccer, baseball and the violin," Mrs. Jones says. "He gets to benefit from all of your expertise and he's passionate about all these activities. You're all giving him experiences he'll never forget and he's fortunate to have these opportunities. That's a good thing, right?"
"Yes, I suppose," Ms. S huffs. "But if he really wants to be great at anything, he needs to commit to it year round."
"I could say the same thing about baseball," Mr. B says.
The elevator suddenly starts to move again.
"Yes, but he has committed to all of your activities throughout the year," Mrs. Jones sighs. "I know, because I'm driving him and his sisters everywhere. Please understand that he does the best he can to pick and choose during overlapping events. Now, if you'll excuse me, I'm going to shop for a present to celebrate his 10th birthday."