Between You and Me: A hypnotic page-turner on Broadway not to be missed
By Leah S. Dunaief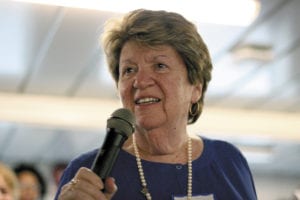 One of the best plays I have seen on Broadway is the drama, "The Ferryman." Written by Jez Butterworth, directed by Sean Mendes and playing at the Bernard B. Jacobs Theatre only until July 7, it is so deserving of winning four Tony Awards, including best play, and should not be missed. The story is about a large Irish family in rural County Armagh in Northern Ireland and conjures up Tennessee Williams and "August: Osage County" for its familial interactions of love, lust, betrayal, anger, contradictions, secrets, repression and murder. But it is so much more.
It is historic, being set in 1981 at the height of The Troubles involving the British, loyalist Irish Protestants who want to remain in the United Kingdom, and nationalist Irish Catholics, including the Irish Republican Army, who want a united Ireland.
It is a story about storytelling as three generations live under one roof of a large farmhouse and slowly reveal much about their own histories. It is about human kindness, as personified by the appealing leading character, farmer Quinn Carney, husband and father of seven children ranging in age from 16 years to nine months. He houses and employs Tom Kettle, an Englishman, whose mind is not all there, as his handyman; and Caitlin, wife of Carney's long-missing brother and her son, Oisin, as well as aged aunts and an uncle. Yet Carney is also a former active member of the IRA, with its brutality and bloodshed, which he has ultimately rejected. It has homey fairy tales and classic epics in the mix, hopeless love, and lots of barroom talk and drinking, happy celebrating and passionate confrontations. Amid all that activity, with a cast of well-defined characters, it has genuine, laugh-out-loud humor.
The play is also remarkable for its length. It runs three and a quarter hours with only one 15-minute intermission after Act 1 and a three-minute dimming of the house lights following Act 2. Yet not for a minute, for me and my companions, did it keep from being riveting as it pulsated with suspense interspersed with hearthside family goodness that is set against the background report of Irish Republican hunger strikers dying one by one in a Belfast prison.
There are even live animals in the form of an affectionate goose, a feral rabbit and a real, sweet baby. Artfully they all come together to deliver a memorable play and to live in the minds of the viewers well past the end of the performance.
The prologue, set against a crumbling, graffiti-splayed urban wall, sets the sinister mood with an encounter between craven Father Horrigan and Muldoon, a major figure in the IRA. And every subsequent scene in which the priest appears seethes with tension. He delivers the news that Seamus, Caitlin's missing husband, has been found face down, preserved by the acid in a bog, hands tied behind him and a bullet in the back of his head. The mystery of his disappearance deepens because he was not involved in The Troubles.
There is an Aunt Pat and Uncle Patrick, as well as an often mentally absent Aunt Maggie, whose roles are largely to unveil past history even as their passions define them as three dimensional characters within the family and their country. Their narratives give their lives shape and substance.
With the discovery of the body, the past meets the future as Muldoon attempts to contain the truth of the missing husband's murder from emerging. In the process, other truths seep out in the appropriately furnished great room of the farmhouse that serves as the only site where all subsequent action takes place.
In the beginning, the viewer is puzzled as to who the family members are and their relationships to each other, which create an air of mystery. As the plot develops, the answers powerfully emerge, carrying us along, absorbed and engaged. And while the plot is masterfully orchestrated, I don't want to give away the most important details in the hope that you will still get tickets and join me in your admiration for a remarkable play.