Volunteers spruce up community's shared garden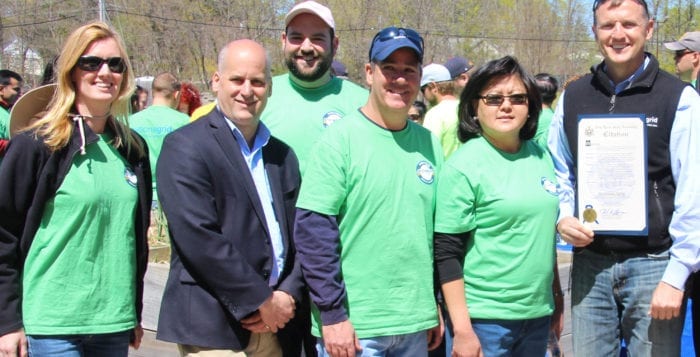 Everything's coming up roses in Huntington Station, thanks to volunteers who spent last Wednesday afternoon working on improvements to the Gateway Park Community Organic Garden.
In honor of Earth Day, more than 70 volunteers from energy company National Grid's Power to Serve program worked to develop a drainage system, clean up debris and plant flowers.
Supervisor Frank Petrone (D) thanked the volunteers for their efforts, including a new rain garden "that will make the garden more environmentally efficient and enjoyable for the many gardeners and children who attend the educational programs there."
Many other local legislators were present at the scene, including Councilman Mark Cuthbertson (D), State Assemblyman Chad Lupinacci (R-Huntington Station) and Suffolk County Legislator William "Doc" Spencer (D-Centerport). Lupinacci also gave National Grid's President Ken Daly a proclamation for the volunteer work.
The community garden on New York Avenue, at Lowndes Avenue, covers more than an acre and has 115 garden beds for families to grow their own fresh fruits and vegetables. Food grown there is also donated to local food pantries.
According to National Grid, flooding had been an issue in the garden, so the company worked with the town to develop a drainage plan to capture the runoff and prevent flooding in the raised planting beds. Volunteers hand-dug a 4,000-foot trench to install an underground drainage system and put down rocks to capture runoff and direct that water into the newly planted rain garden.
Rain gardens provide environmental benefits, as they capture and clean rainwater before it enters the groundwater system.
Volunteers also planted colorful moisture-tolerant plants, removed litter and weeded the garden.
The effort came "at a perfect time for Huntington Station, with two redevelopment projects underway and renewed community support for revitalization," Eric Alexander, director of Vision Long Island, a nonprofit geared toward smart growth, said in a statement. "Tangible improvements including a new rain garden were made from the National Grid volunteers and gave a lift to the garden and the Huntington Station community."