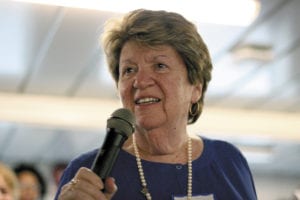 By Leah S. Dunaief
If you want to see what your kids really think of you and have some fun in the process, ask them to come up with a profile for you if you are single to use on an internet dating app. My children and a couple of grandchildren were here for a visit this past weekend, and that was one bit of interaction we enjoyed. I have never filled out such a profile before, and I turned to them — the generation that started using apps to find partners — for help. Here are some words they threw out.
Beautiful: Well listen, if your sons don't think you are good looking, what was the point of all that maternal sacrifice? This one is just a given.
Energetic: Of course. You have to have some measurable degree of energy in order to put yourself out there. It's certainly easier to lay back and watch endless television or read a novel every night. And I am leaving off the comments they threw out about double chins and still having my original teeth.
Good conversation: Yes, OK, but it takes two to tango. Willing to offer opinions on just about everything. And listening is at least as important.
Loves to travel: That probably narrows the field to about 90 percent of the female population.
Enjoys theater: Ditto.
Sense of humor: If you have to brag, not much hope. I would hate to be asked to say something funny. Probably more of a way of looking at life.
Likes sailing: Although I no longer ski or play tennis, because of knees that are given to protest. That's probably in a league with long walks on the beach. Not much personalization there. Come now, let's find something unique.
Opera subscription: Only unique for the younger generation of Dunaiefs because they can't imagine thousands of people gathering to hear some fat women screech. Little do they know that the women are no longer fat, and the human voice can be one of the most exquisite instruments delivering some of the most beautiful melodies ever written. Plus operas often have profound themes dealing with universal questions. What we have here is theater, concert and choir all in one offering. They are young yet, they may come upon the bargain that is opera one fine day.
Well read: That's correct if measured by the amount of newspaper articles I feel it necessary to ingest every day. Books mostly have to wait for vacations.
Loves learning: Now we are getting somewhere. They say that journalists know things a mile wide but only an inch deep. That is true. From one day to the next, we have to leap from subject to subject, spending only enough time on each one to be able to write about its newsworthiness correctly before moving on to the next. And that suits me fine. Where I become more interested, I can always go back and dig deeper. Meanwhile there are endless facts to absorb as I move along.
Still working: Yes, that's how one continues to learn.
Independent: You bet. That is definitely a truth about yours truly, and those children of mine are probably glad that I am. Being independent, not having to live up to anyone else's expectations, including one's own from long ago, is hard won and to be cherished. Not having to lean on anyone for support, unless by choice, is the ultimate liberation.
Loves raspberries and blueberries: Now we are getting to the heart of the matter. Yummy!
Adores flowers and nature in all its magnificence: Yes, yes, yes.
Good friends: You have to be one to have one. I certainly try.
Love my family: And I am close to them. A most important part of my life.
Optimistic and positive to a fault: I have always told my children that all things are possible. They just have to work hard to succeed. They are the CEOs of their lives.
Romance: Ah, yes. What is life without an adoring someone? Worth searching for, I think.