By Rich Acritelli
It was during this past week that classic rock could widely be heard throughout the North Shore. 
The Billy Joel "Big Shot" band that is led by local native Mike DelGuidice sang to a packed audience at Saint Anthony of Padua R.C. Church in Rocky Point Aug. 27. With almost 8,000 people on hand to watch the musical event, it was a great night enjoyed by all. For the last several years, Big Shot has been the main attraction of the summer concert series and a driving force of Post 6249 Rocky Point Veterans of Foreign Wars' local efforts.
For the entire day, veterans of this military post diligently worked to ensure that this production was enjoyed by the many residents of this community. This operation was organized by Post 6249 Commander Joe Cognitore with eighteen members of the veterans organization that helped set up tents, directed where chairs could be placed, the positioning of garbage cans and worked with the church to ensure the success of this night. Cognitore was pleased to be working with Reverend K.J. Augustine, a new addition to the parish of Saint Anthony's. It was a united effort by members of the church, VFW, county officials and local leaders that all participated in making this night come alive. Cognitore was thankful for the guidance that Augustine demonstrated to bring various organizations together through a musical tradition that has flourished at Saint Anthony's during the summer months.
Cognitore said he was delighted that everything came together for all of the people on the beautiful evening to hear the DelGuidice sing the hits of Billy Joel, Elton John and Aerosmith.  For well over twelve hours, members of Post 6249 were seen in their blue shirts selling raffle tickets, pointing people to their seats, dancing, all with big smiles on their face, excited to watch this event unfold in front of a packed house. Even as DelGuidice now calls Florida his home, this local kid recalled his roots with good-hearted banter with the crowd. 
Since this series was created under then county legislator Dan Losquadro and continued with the aid of his successor Sarah Anker (D-Mount Siani), DelGuidice has been the key event to end these shows on a high note. While the musician performs next to Joel through the longstanding franchise at Madison Square Garden, DelGuidice is a proud figure from Miller Place. The former resident has mastered the songs of Joel and has members of his band playing with Big Shot to round out this talented group. With cheers that could be heard up and down Route 25A and Main Street in Rocky Point, DelGuidice played for almost three hours. 
It is this music that resonates well with many people that can identify with the local lyrics and spirit of Joel mastered by DelGuidice.  Like that of Bruce Springsteen, John Cougar Mellancamp, and Zac Brown, the combination of Joel and DelGuidice music will continue to stand the test of time and local residents will surely enjoy these shows for many years to come.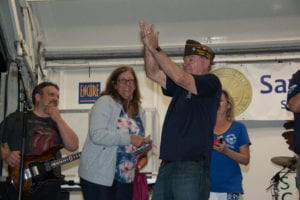 The importance of this concert series is that the local government and Cognitore are able to bring solid musicians to this area to present their multitude of talents. Instead of worrying about paying an expensive ticket price and traveling into the city, many people are able to come home from work and within minutes hear the unique voice of DelGuidice play some of the most memorable rock hits. This leisurely event allows people the opportunity to see an outstanding show that is free, close to home and they also observe the likes of Post 6249 work for the betterment of the North Shore.
One of the finest songs that DelGuidice sang on this night was "Good Night Saigon."  Immediately, DelGuidice invited all of the veterans to be present on the stage and be next to him and his band. Much of this tribute was presented to the Vietnam Veterans that were led by Cognitore. He had tears in his eyes by the overwhelming applause from the crowd. Standing next to the post commander, they looked out to the crowd as they raised phones over their heads.nThey turned on their flashlights and cameras creating a clear path of light across the fields of Saint Anthony's.  
Veterans, young and old were continually thanked by DelGuidice and his band for sacrificing for this nation. In an evening with many highlights, this one surely hit home for the members of Post 6249 and for those with history of defending this nation at home and abroad.
Already, Cognitore is looking forward to next year. He wanted to thank all of the political leaders, the church, officers of the Suffolk County Police Department of the 7th Precinct for their role in handling crowd control, parking, the traffic, and being a presence to ensure the safety of an audience of thousands.