Plain Talk: Compassion and kindness lives on
By Fr. Francis Pizzarelli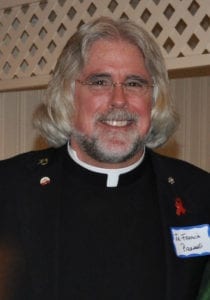 The world is so polarized. Our nation is so divided; hatred is so infectious these days. So, when one comes upon compassion and kindness, it causes you to stop and think!
Being an avid downhill skier, I never fall and I am always careful but last ski season on my last run I took a terrible fall and slid down half the mountain with both skis on. I finally stopped was able to get up and maneuver down. When I got to the back of the mountain my right knee hurt but I didn't  pay any attention to it.
The week before Thanksgiving as I was walking down the staircase of the cottage I live in at Little Portion Friary in Mount Sinai, my right leg gave out and I took a tumble. I was told that my meniscus was shot probably because of the fall last season and I now tore a tendon in my right knee. I had emergency surgery and was placed in a brace.
Since that surgery, I've been wearing a brace on my right knee. I've taken 75 people to Israel and teach at two universities every week. I'm not always dressed as a priest when I go into New York City to teach. Most recently, I was so taken with people's kindness. Someone offered me a seat on the crowded subway, another held the door and wanted to assist me. Pretty amazing since when I don't dress like a priest, I look like a homeless man!
Over the last year many of you have reached out to me about a homeless young man who is usually found begging on Route 347. He's a heroin addict; for more than a year he has been living on the streets and in the woods. A number of times I've reached out to him to offer food, clothing, shelter and treatment; each time he politely told me he was not ready. 
Unbeknown to me, a recovering heroin addict who is in my employ has been helping him every day for more than a year by bringing him food and water. He found out where he was living and also brought him a sleeping bag and blankets when it was cold. Every day he checked on this young man for a year, always encouraging him to get treatment.
Finally, after a year of compassion on the part of my employee the young man finally agreed to go to St. Charles detox and entered long-term treatment after that. Two months ago, he entered Hope Academy and has committed himself to 18 months of long-term treatment. Compassion and kindness made all the difference!
Father Francis Pizzarelli, SMM, LCSW-R, ACSW, DCSW, is the director of Hope House Ministries in Port Jefferson.