D. None of the Above: Missing the smells of beaches, bakeries and the Bombers
By Daniel Dunaief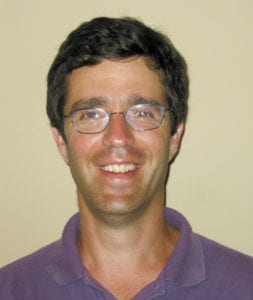 Panic, which started in my stomach and had seeped so deep into the sinews of my fingers that I could barely write my own name, was overcoming me.
I was staring at the problem, knowing that I could do it if I calmed down, but also fearing that the answer wouldn't come in time.
I had studied this type of organic chemistry problem for weeks, had attended every extra help session Randy, my teaching assistant and the head teaching fellow for the class, gave, including several late in the evening on Sunday nights.
If I froze up for too long, I ran the risk of not finishing that problem or the test. I couldn't come up with a solution, and I couldn't move on.
Then, it hit me. No, it wasn't the solution. It was Randy's overwhelming cologne. My teaching fellow was walking up and down the rows of the testing site, making sure no one was cheating, while responding to requests to go to the bathroom.
Something about his cologne brought me back to one of the many study sessions, helping me break the mental logjam in my head and sending me toward the solution that was right under my nose.
As we enter the 11th month of this pandemic, we can see and hear many of the cues we would get if we were continuing to live the lives we took for granted, but we are much more limited in what we can smell, especially if we are sticking with federal guidelines and staying put.
So, what smells do I miss the most?
While I enjoy visiting Long Island beaches in the summer, when the trio of hazy, hot and humid hovers in the air, I particularly appreciate the cold, salt spray of a winter beach, when the scent of crispy and frozen seaweed blends with air that seems to have brought hints of its cold journey across the ocean.
Then, of course, there is the missing smell of the kinds of foods that aren't in our own kitchens or right next door. One of my favorite restaurants, the Good Steer sends out the scent of their onion rings in every direction around the building, calling to me and recalling my youth when my late father would watch happily as all three of his sons consumed our double order of onion rings, alongside our burger supremes.
While all ice might seem to smell the same, the scent of Alaska's glaciers brings a frozen crispness to an inhospitable climate. Marveling at the ice around a cruise my wife and I took over two decades ago, I inhaled the cool fresh scent of frozen water.
Then there's the food from all over the world. The enticing smells of freshly baked baguettes and fruity macarons in Parisian patisseries, the welcoming scent of fish caught earlier that day on Hawaiian beaches or the symphony of smells from places like Faneuil Hall, where Boston accents form the acoustic backdrop for the smell of flowers, steaks, and baked beans.
With spring just a month away, I turn to thoughts of baseball and Yankee Stadium. Yes, of course, numerous odors throughout the stadium — from other fans who could use some of Randy's cologne to restrooms that don't smell like a rose garden — aren't the first things that come to mind. I'm talking about the smell of the grass and the dirt after the grounds crew waters it. That baseball field scent conjures infinite possibilities, from triple plays to triples off the wall, from immaculate innings to grass-stained catches. The smell of hot dogs and soft buns entice us as vendors march up and down the stairs nearby.
These days, we can see and hear people through FaceTime calls, but we can't smell them. That person might love orange Tic Tacs, tuna fish sandwiches, fresh roasted coffee or any of a host of other scents — cinnamon rolls, perhaps —that define her the same way the light highlights a crooked-toothed smile. We might find Tic Tacs that remind us of them, but, without the combination of scents, including their laundry detergent, their soap or their conditioner, or their physical presence, we are missing that olfactory connection.