Between You and Me: The two faces of America in 2019
By Leah S. Dunaief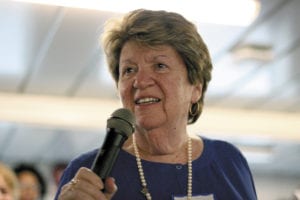 Today we report on two diametrically opposite faces of our nation. Interspersed here are some personal recollections of my own. Fifty years ago we Americans stood proud and together, our faces turned upward to the heavens, as the United States sent Apollo 11 to the moon with astronauts Neil Armstrong, Buzz Aldrin and Michael Collins aboard. Armstrong and Aldrin were to land on the surface in the Lunar Excursion Module, or LEM, the creation of engineering wizardry by thousands of Grumman workers right here on Long Island.
An estimated 650 million people around the world watched spellbound on black-and-white television screens as the two astronauts took the first steps for a man on July 20, 1969, and the unprecedented leap into the future of space travel for mankind.
Until 1972, 24 people flew to the moon, none since then. But that was just the beginning of incredible discoveries and inventions, from miniaturizations to astrobiology. We have a satellite that has played host to other nations and enabled us to see around the world. Known as the International Space Station, we have used it to reach out into the solar system. And it will even become a regular destination for tourists shortly if entrepreneurs are to be believed.
Meanwhile, as Armstrong and Aldrin were busy walking around on the moon, there was a tiny leap on Earth for our third son. He arrived from out of the womb at St. Charles Hospital in Port Jefferson and at this time is enjoying a 50th anniversary of his own. We had arrived on Long Island only three weeks earlier from Sheppard Air Force Base in Texas, where my husband had served for the preceding two years, and were busy working to establish our new lives here. 
Now you might think that the blessing of a new baby, along with the need to find a new home and rent a medical office might have overshadowed the miracle of the moon landing, but for me that event was high-voltage electric. 
Just before we left New York for Texas and my husband's assignment, I had been working at Time-Life with Arthur C. Clarke, who had arrived from his Eden-like home in Ceylon — now Sri Lanka — to write a book called, "Man and Space." Clarke, like the other writers of space discoveries and travel, had to write under the banner of science fiction in order to gain respectability. But the truth was that these authors believed what they wrote would come to pass, and fortunately for many of them they were alive to see it happen in the 1960s. And I was fortunate enough to be part of the excitement, a front row spectator of history, as we journalists are.
I, too, was caught up in the fervor of the coming moon shot. When Clarke parted, he went on to join Stanley Kubrick to co-write the script of "2001: A Space Odyssey," considered today one of the best films ever made, and I to become the wife of an Air Force officer and then mother of three.
So we leave the incredible heights of American pride now and look at the other side of the coin. Elsewhere in our news, we have the press release from U.S. Rep. Tom Suozzi (D-Glen Cove), who went to the southern border of the United States with a small group from the House to see first hand what was happening at the immigration centers. In his words, the situation is "awful" and the system is "broken." The group toured and inspected facilities that are currently holding Central American migrants seeking asylum, speaking with several immigrant families as they went.
According to first-hand reports, there is a humanitarian crisis at the border. Since only very few migrants are processed each day, many cross over the border illegally between points of entry, then turn themselves in to seek asylum. They come in such numbers that they greatly exceed capacity to house and care for them, and as such are living in deplorable conditions. 
These are our American concentration camps, where children have been separated from their parents. They are deserving of our shame. "America is better than this," declared Suozzi, and we know that to be true. At one and the same time, we celebrate and rue our nation.