By Leah S. Dunaief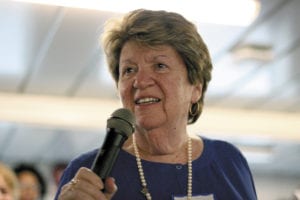 Sometimes I think how lucky I am to live here. One of those times was this past week when my life was greatly enhanced by what is around me. Now I don't want to come off as a Pollyanna. There are also times when I'm not feeling so lucky — as when the property tax bill arrives, which it will shortly and with a new total that includes a compounded increase. Fortunately, I only have to think about that twice a year but, on the upside, I can appreciate regularly the advantages of village living.
I will share with you what happened last week, in chronological order. On Wednesday, Dec. 4, I went to an Emerson String Quartet concert at Stony Brook University's Staller Center. The Emerson is a world-famous act, whose upcoming performances are heralded on large posters in front of Lincoln Center in New York City. But I don't have to go into the city to hear them play superbly on an evening. And I don't have to pay exorbitant prices to park my car or spend many minutes looking for a distant parking place. 
Here, I can park in the adjacent SBU garage for free — one of my favorite four-letter words. I also don't have to drive two hours to get to the concert site and then two hours back late at night. In a matter of minutes, I can reach the campus, park the car and be in my seat waiting for the illustrious four to walk on stage and begin to play. I can return home without traffic in similar fashion. And the cost of the tickets to hear one of the most honored classical music groups on the globe? Little more than half of that charged in the Big Apple. After such a performance, I return home serenely happy.
That was Wednesday. On the Friday, I walked and rode along the pitch black roads of Old Field South, moving from house to house for the Three Village Historical Society's Candlelight House Tour. The harrowing driving in the maze of streets that make up that development, built by tycoon Ward Melville starting in 1929, was rewarded by the bright lights and cheer inside the homes open for a walk-through. The homes are artfully decorated and several members of the society tell us about the history of each. All of that is donated for the sake of the organization. And did I mention the food? There are tidbits and wine at each stop on the Friday night event, supplied generously by local restaurants. There were six houses, plus Old Field Farm, on the fundraising tour, which ends with lots more food and drink at the Old Field Club. It seems like half the community turns out for the festivities.
In the interests of full disclosure, I have to confess that while I love history, with its stories and larger-than-life people, I am also an incorrigible snoop when it comes to checking out the insides of people's homes. One can tell so much about those that dwell there and also get a couple of decorating ideas for one's own abode.
Then Sunday afternoon I capped a visit to the Dickens Festival in beautifully decorated Port Jefferson with a performance of that holiday favorite, "The Nutcracker." This one was presented by the Harbor Ballet Theatre and the talented students of Amy Tyler School of Dance, with the help of a trio of marvelous New York City professionals. For 10 years straight I saw "The Nutcracker" at City Center in Manhattan. It was a holiday tradition as I was growing up, but I had not seen the ballet since then until this thrilling show. I was reminded all over again how charming a ballet and how much I love Pyotr Illyich Tchaikovsky's music.
A quick trip then to the grand tree lighting on the Stony Brook village green, and then back to my living room. I say, this was not a bad way to spend a weekend, all nasty cracks about the sterile suburbs aside. Yes, I enjoy the delights of the city, but they are hard to compare with the comforts of home.