Between You and Me: From sudden choices, deep roots grow
By Leah S. Dunaief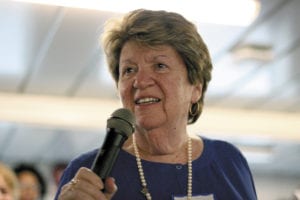 Incredible as it seems to me, it was exactly 50 years ago that we started packing for our move to the North Shore of Long Island. We were on an Air Force base in Texas at the time and had originally not planned to come here. It was 1969, the Vietnam War (a part of our everyday life in the military) was raging, both Kennedys and Martin Luther King had been assassinated, the country was being ripped apart by riots, and until that moment we had intended to settle permanently in San Diego. My husband, who loved warmer weather, had researched the climate throughout the nation and decided that when his tour of duty ended, we should live on the southern California coast.
So we were taking our two sons, the third still in utero, to settle on the other side of the country from the city in which we were both born. But our families were still in New York. And when the time came for us to declare our intentions to the movers, we couldn't go through with the decision. In those chaotic times, family seemed the most important element of our lives. My parents were our children's only grandparents, my husband's parents having both passed away some years earlier. Our children were my parents' only grandchildren, and they all adored each other.
To everyone's surprise we changed our plans at the last minute and wound up in Stony Brook, attracted by the coming medical center, which my husband felt would enrich his ophthalmology practice. The rest is history, our history interacting with our hometown, and after half a century I will say that the community never disappointed.
We discovered St. Charles Hospital, where our third son was born and where I was cared for like royalty. After a nomadic year of renting, we found a beautiful piece of property in the middle of the woods and borrowed to the hilt so that we could build a modest ranch house there. My husband started his solo practice—that's what physicians did in those days—in a small medical building in Port Jefferson, and after six months we could afford linoleum to cover the subflooring in the kitchen. A year later we were able to pave the driveway. We regarded those as personal high water marks.
Meanwhile we loved, loved, loved the beaches, the creeks and the rivers within easy drive. We swam, collected all manner of shells and identified them for our children, we rode tire tubes into the harbor as the tide swept us out of the creek and we rented kayaks to paddle on the Nissequogue River. Our big expenditure was a Sailfish that we kept on the rack at the beach, and we sailed across Stony Brook Harbor to the Smithtown beach.
We were pleased to join the Historical Society, the Environmental Center, the Emma S. Clark Library and the Civic Association. People welcomed us, we found friends—or rather our children found friends and we then became friends with the parents—and we enjoyed the social and cultural scenes thoroughly.
Our children were educated in the local school district well enough to continue in life and thrive. We thank the many teachers, administrators, counselors and other personnel who every day delivered that fine effort.
My husband's practice grew, and so did our children, so that shortly after the youngest started first grade I was able to realize my dream: starting a hometown newspaper to serve these villages. Again, our work was welcomed and our lives blossomed. I am thrilled every time I meet new residents and visitors to our area. Those contacts are invariably enriching, and we take our mission to provide impartial information and protect the community to be a noble pursuit. Over the years, I have been lucky enough to be joined by highly committed colleagues.
After 50 years, we can look back and know that we made the right choice.