Board hires first executive director to help facility grow
By Desirée Keegan
Marc Alessi lives just houses down from where inventor Nikola Tesla stayed when he was in Shoreham.
When Alessi held public office as a New York State assemblyman, he worked to secure state funding to purchase the Tesla Science Center at Wardenclyffe, to ensure it would be preserved and remain in the right hands.
Years later, he's getting even more involved.
"I would drive past the site and look at the statue and think, I could be doing more," Alessi said.
Now, he's the executive director for the center's board and is responsible for planning, administration and management, while also helping the science center develop and grow during its critical period of renovation, historic restoration and construction on the grounds of the former laboratory of Nikola Tesla.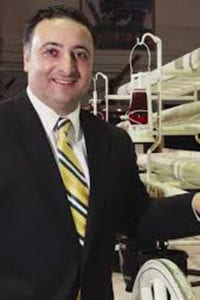 "Marc has a lot of energy, enthusiasm and he's got a lot of spirit, and I think those are qualities that will help to bring attention and help us to move forward in our efforts to make the science center more well known," board of directors President Jane Alcorn said. "He's been part of our past and has always shown an interest, so he's knowledgeable about what we're doing."
Alessi, an entrepreneur, brings a lot of knowledge in areas that no other board member has, Alcorn said.
The Shoreham resident is an attorney with Campolo, Middleton, and McCormick LLP, is a former executive director for the Long Island Angel Network, helped establish Accelerate Long Island and currently serves as chairman and founding CEO of one of their portfolio companies, SynchoPET. He also serves on the board of directors of the Peconic Bay Medical Center and the Advisory Council for East End Arts.
"I believe I work for Nikola Tesla as much as I work for the board," he said. "It's my mission in life, whether I work as their executive director or not, to make sure he has his place in history. People were just floored by just what he was trying to accomplish, but if you just look at what he did accomplish, like remote control and x-ray and neon, and the alternating current electricity, [you could see] all that he did for humanity."
One thing he would like to emphasize, that many may not know about Tesla, was how he tore up his royalty contract in an effort to ensure all people, not just the wealthy, would have electricity.
"Invention, technology and innovation doesn't always have to be about personal enrichment," he said. "Sometimes it's just about improving the world around us."
First for the center is turning the laboratory into a museum and preserving the site as a national historic landmark, which would be a tremendous tourism draw. Aside from the museum, a cinder-block building will add community space where civics and other local groups and robotics clubs can meet and utilize the space, which will also house educational opportunities.
"I would drive past the site and look at the statue and think, I could be doing more." — Marc Alessi
Alessi was recently named executive director of the Business Incubator Association of New York State Inc., a nonprofit trade association dedicated to the growth and development of startup and incubator-based enterprises throughout the state.
Which is exactly what the Tesla Science Center is working toward.
"I can't walk around my community without feeling a bit of his presence and a bit of a responsibility to make sure this site is preserved in perpetuity, and educates people about him, what he's about and what is possible," he said. "The whole board and the community is interested in seeing the Tesla's of tomorrow have a place to come and be able to create. To try to invent."
Alcorn believes that with Alessi's help all of their ideas can come to fruition.
"He has a wealth of knowledge and connections with many people and many areas of business and government and incubators that will be of great help in sharing our goals and encouraging others in making this happen," she said. "He does definitely share many of our ideas, but he also has plenty of ideas of his own."
Alessi said he specializes in taking an idea and making it a reality, but with this site it means more than that to him.
"By celebrating Tesla you're celebrating innovation, that's at my core and DNA," he said. "We'd love to see a maker space or an incubator where other folks in the community, not just students, can come in and have access to the tools that are necessary to make high-tech inventions. That will be great for our community. It's about the Tesla's of tomorrow. We want to empower that."