By Leah S. Dunaief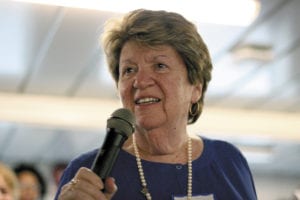 Did you know that the Boston Tea Party, during which colonists boarded British ships anchored in Boston Harbor and pitched their precious cargoes of tea into the sea, was organized by a local chamber of commerce? In 1773, in response to the onerous Tea Act imposed on the North American colonies by the British Parliament, the Charlestown Chamber of Commerce — that's always been a tough part of town — called its members together and dramatically displayed their displeasure at yet another tax. And the rest is history — our history. 
All of which is to say, chambers of commerce have been around for a long time and, in their own way, can be quite powerful.
How do I know about this? I was watching the television program, "Jeopardy!" the other night, fascinated by the latest contestant who has won well over a million dollars so far and in record time, when the answer to the final question about a group founded in 1599 was, "Who was the chamber of commerce?" Intrigued, I looked up the history of chambers and discovered that in Marseille, France, tradesmen had banded together at that time to protect and promote business. They called themselves "chambre de commerce,"
chartered by King Henri IV.
There are all sorts of chambers today: international, national, national-international, state, regional and particularly local such bodies. They still have the same mission and generally are respectfully regarded by the public. They tend to be a nonpartisan source of information about their towns, especially regarding business, and membership in them suggests a certain authenticity. There are roughly 4,000 local chambers in the United States today, according to the internet, and they often advocate with government on behalf of business. 
Our media group belongs to eight of them in the areas we serve across three townships. Some are larger, like Huntington and Smithtown, some are just getting started, like Rocky Point Sound Beach. Earlier this week I attended the Brookhaven Chambers of Commerce Coalition, usually referred to as the BCCC. Founded in 1992 by Barbara Ransome of Port Jefferson, among others, the BCCC was celebrating the 20th anniversary of its annual gala, honoring a member of the year chosen by each of 16 chambers. Some 230 people filled the room and patiently applauded as the chambers in turn introduced their winners.
The now-famous "Jeopardy!" contestant, James Holzhauer, did have the right answer but only barely squeaked by one of the other two challengers to enlarge his winnings and earn the right to return the next night. Holzhauer is one of the more unforgettable characters that have appeared on the show. He is both "extraordinarily knowledgeable," as described in The New York Times, but also has brought an unprecedentedly aggressive strategy to the game program. He is, by his own description, a professional sports gambler, and starts with the high value questions first, then bets shrewdly and big on the Daily Double. He thinks nothing of interrupting the amiable chatter from host Alex Trebek and moving the pace of the traditionally polite game faster. Married, with children, he is laser focused most of the time but seems to have relaxed a bit and even joked with the audience, as the days go by and his winnings pile up.
Holzhauer is different from the long line of previous contestants in key ways. By his own admission, he is used to winning and losing large sums of money all the time, so he doesn't tremble when he bets $60,000 on the Final Jeopardy question. And he knows he is well prepared for the game.
What is the secret to his immense knowledge of trivia? He wasn't a diligent student in school, he admits, but he prepared for "Jeopardy!" by reading children's books in libraries where facts are presented in an interesting way. He worked really hard to achieve his longtime goal of getting onto the game show, and he studied to win.
Three cheers then for chambers of commerce and libraries.