This summer, families will have the opportunity to swim under the sea with Ariel and all her friends as The Noel S. Ruiz Theatre presents one of Disney's most beloved classics, "The Little Mermaid."
The full-length musical, which opened last Saturday night at the CM Performing Arts Center, brings the ocean to life on the Oakdale stage and follows Ariel's adventure to find true love — and her voice. The show delights children and adults with a dazzling production, special effects and unforgettable music.
Kristen Digilio and Patrick Grossman (who also serves as set designer and choreographer) skillfully direct a talented cast of more than 20 in this fun adaptation of the Danish fairytale of the same name by Hans Christian Andersen. Music is by Alan Menken with lyrics by Howard Ashman and Glenn Slater from the 1989 animated film.
M.E. Junge is perfectly cast as Ariel the mermaid princess and shines in her solos, "The World Above," "If Only (Ariel's Lament)," and "Part of Your World." Bobby Peterson is the romantic Prince Eric with standout vocals, and he is as handsome as can be. Kin-Zale Jackson perfectly plays Sebastian, Ariel's lobster friend, Jamaican accent and all. His rendition of "Under the Sea" and "Kiss the Girl" brings down the house.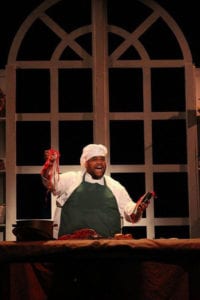 The wicked sea witch, Ursula, is played flawlessly by Erica Giglio-Pac, who commands the stage with her powerful voice and presence and is chilling during her performance of "Poor Unfortunate Souls." Kyle Petty is hilarious as the French Chef Louis who chops and guts his way through "Les Poissons." His chase after Sebastian through the castle draws the most laughs. Petty is a delight to watch and is on stage for too short a time.
The supporting cast does a wonderful job, with special mention to Flounder (Victoria Tiernan), Scuttle (Ronnie Green), the electric eels Flotsam (Matthew W. Surico) and Jetsam (Kevin Burns), King Triton (Gregg Sixt) and Grimsby (Andrew Murano).
Multiple sets are featured for both the above and underwater scenes with a ship, a castle, coral reef and lots of waves. Green's costumes complement the set perfectly, with vibrant outfits, wigs (more than 40 are used during production) and tons of glitter. From Ursula's dress, with six additional legs, to King Triton's crown and trident, everything pulls together nicely. Lighting was designed by Allison Weinberger, with spotlighting neatly handled by Jacqueline Hughes and Marielle Greguski and the choreography was exceptional, especially during "One Step Closer," in which Eric and Ariel dance the Waltz, and the tap dance number "Positoovity" with Scuttle and his seagull friends.
This is a wonderfully family-friendly show and although the scenes with Ursula could be a little frightening for a younger child, the clever script — chock full of sea-themed puns, like "as long as you live under my reef, you will live by my rules" and "a squid pro quo" — as well as the singing, dancing and special effects make it all worthwhile.
As a special nod to the children in the audience, the crew turns on bubble machines during "Under the Sea" from the sides of the theater and on stage, releasing, according to the program, 15 gallons of bubble juice during each show. Although the evening show starts at an earlier time of 7:30 p.m., it runs for two and a half hours with one 15-minute intermission, perhaps too long for the younger audience.
The Noel S. Ruiz Theatre at the CM Performing Arts Center, 931 Montauk Highway, Oakdale, will present Disney's "The Little Mermaid" through July 9. Tickets range from $16 to $29, with VIP seats for $40.
The theater closes its 38th season with "West Side Story" from July 30 to Aug. 28. For more information, call 631-218-2810 or visit www.cmpac.org.