By Leah S. Dunaief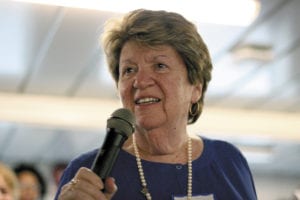 Celebrations are a beautiful thing. Besides being festive, they tell us who we are, where we come from and maybe even where we are going. For example, the Fourth of July reminds us that we are Americans, Thanksgiving Day prompts stories about our history and that we have aspects of our lives to be thankful for. Religious holidays strengthen our beliefs and traditions. And the best part of celebrations can be that they bring us together — as a nation, as sports fans of a winning team, as members of a particular block or just as a family.
My family looks to ceremonialize as much and as often as we can. The month of May has been especially kind to us in that regard this year. For starters, my oldest grandson will be graduating from college in Boston in May. My granddaughter will graduate from high school in Charlotte, North Carolina, later in the month. Both have earned their next stage in life. To continue the party, my youngest son will celebrate a big birthday at the beginning of July. We try to get together for some of the Dunaief birthdays each year. And any other excuse — new job, acceptance to college, a new success at work, an honor bestowed on a member — any occasion serves. A triumph by one can be an opportunity to rejoice by all.
Celebrations can establish traditions, and traditions can provide structure for each year. With such framework can come togetherness and the security of a community. The community can be as small as a family coming for Sunday dinner to eat the tomato sauce that's been cooking slowly on the stove in grandma's kitchen much of the day. Or it can be as large as one of the world's great religions that transcend national and international boundaries. A community can be of one's sex, or age, or station, or nationality, or village, or school district or neighborhood. There is great power in community — a defining and anchoring identity, a sense of inclusion.
So how do most people celebrate?
The answer is usually with food, but not always or only that way. For my grandson's graduation, we will all come together in the bleachers of Fenway Park and variously cheer or boo the Red Sox, depending on our individual intelligence. We will stay in the city a couple of days and perhaps visit one of the many terrific museums. Maybe we will even take a duck boat ride on the Charles River or a swan boat ride on the Boston Common or a historic walk through the many hallowed neighborhoods. Any and all of those will make for lifetime memories that will encourage us to further celebrate by making them into traditions and perhaps repeating them or recalling them with amusement whenever we get together. Common stories are part of what unite us, as a people and as a family. Oh, and there will surely be lots of seafood throughout our stay in Beantown.
In Charlotte, we will be newcomers eager to explore the new hometown for one of my sons and his dynamic family. Before they moved, we were already acquainted with how long the flight was from here to there, and which airlines made the trip. It is inherently exciting to explore a new region of the country, with its different festivities, histories and traditions — and regional foods. By now you have surely gotten the correct impression that my family enjoys traveling and celebrating on its stomach.
For my youngest son's birthday, there is always a baseball game involving us. He gets to stay up at bat as we take turns pitching to him, and he typically knocks the ball out of the park. Other times we get to chase it all over the field. Such is the privilege of the birthday kid.
They are completing one stage and entering the next one, members of my family, and that is so significant as to be noticed and marked with congratulations and optimism. By celebrating together, we are saying, "Well done! And we are with you all the way."