Between You and Me: Women — older, wiser and (sometimes) leading the way
By Leah Dunaief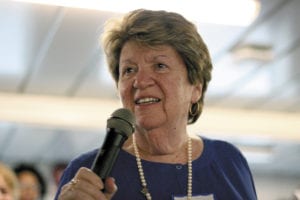 This new year may come to be known as the Year of the Older Woman. That was my thought as I read The New York Times article by Jessica Bennett, "I am (an older) woman. Hear me roar." The story goes on to cite Nancy Pelosi, Glenn Close and Susan Zirinsky, the newly named head of CBS News, among others, as examples of powerful women over 60 in the spotlight.
IT'S ABOUT TIME.
Pelosi survived a serious challenge to her leadership from the energetic freshmen Democratic members, to once again become speaker of the House of Representatives. That makes her the most powerful elected woman in the United States. Pelosi is 78. Long-serving Representative Maxine Waters (D-California), is the first woman, and incidentally the first African-American, to chair the Financial Services Committee. Waters is 80. Donna Shalala (D-Florida) is the oldest freshman in the House. Shalala is almost 78. 
Zirinsky, who worked at CBS in almost every conceivable news position for 40 years, is not being shunted into retirement. Instead she is now the first woman to head the prestigious news division. She is also the oldest person to hold that position. Zirinsky is 66. Glenn Close, regarded as an underdog in the best actress in a motion picture, drama category of the Golden Globes, beat out four younger women. Close, long a favorite actress of mine, is 71.
How much of this has been as a result of the #MeToo tsunami? Older men have long held power into their 70s and 80s. But some of them have been spectacularly toppled: Charlie Rose is 77 and Les Moonves, newly ousted from CBS Corporation, is 69. So age, of in itself, has not been seen as a barrier to power, but gender has. Those fallen men have vacated positions at the top that now can be filled by equally qualified women. Christiane Amanpour, who will be 61 this week, has replaced Rose on PBS. 
Gender coupled with age was always toxic for female advancement, but not in every culture. Native Americans, I believe I recall, would admit only post-menopausal women to the highest circles of power within their tribes. Slowly the rest of our country seems to be realizing the value of older, and presumably wiser, women for positions of leadership. This is most encouraging for the women over 50, of whom there are more than at any time in our U.S. history. And why shouldn't they have the same opportunities at leadership and power as men? They are healthier, working longer and earning more than ever.
Well, in fact, it seems like they are advancing. In the words of Susan Douglas, a professor of communications at the University of Michigan, according to The Times, "a demographic revolution" is occurring. 
More women are working into their 60s and beyond, and are being appreciated for their talents and experience. In the late 1980s, some 15 percent were still working. Today it is nearly one-third of those 65-69. Those 70-74 and working have jumped from 8 percent to 18 percent. The Times article goes on to point out that working longer is more common among women with higher education and savings. Presumably some are in the workforce by choice and are valued there.
This all reminds me of an exchange that occurred shortly after we started The Village Times, our first newspaper, in 1976. I was 35-years-old, with more gray hairs than now, and hiring staff, when a man came to interview for one of the positions. 
After a positive conversation in my office, I was about to hire him when he paused, then asked, "Are you the boss?" When I told him that I supposed I was, he looked confused, then explained, "I'm sorry, I didn't realize. I couldn't work for a woman boss." With that he stood, picked up his coat and hurried away. I didn't even know enough then to be flabbergasted.