By Leah S. Dunaief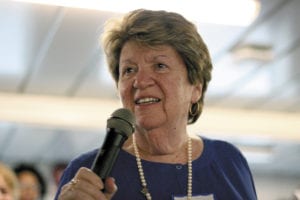 Three-day weekends are wonderful. When you go to sleep Sunday night, you know you have an extra day of weekend on Monday, and you feel so rich. What did you do on Labor Day? I hope you enjoyed it as much as I did.
First I met some old friends at the bagel store and we had breakfast and caught up on summer activities and the latest news. Then I did some work, so I should feel a little bit virtuous. And as a climax to the free time, I went to see a movie with a good friend. Just imagine! Going to the movies on a rainy Monday afternoon. What a treat.
We saw "The Farewell," and we both loved it. I checked it out first, and it is probably the only movie I have ever seen with a 99 percent rating from Rotten Tomatoes. In spite of having such high expectations, we were not disappointed.
The movie is an independent Chinese film, largely autobiographical from Lulu Wang, with subtitles and speaks to several themes all centered around one peg. I won't be revealing anything that would spoil the experience for you by saying that the plot revolves around a lie. In fact, at the beginning of the film, we are told that what we are about to see is based on "an actual lie." The deception is as follows. Grandma Nai Nai is terminally ill, and everyone wants to see her one final time. But the problem is that she has not been told that she has malignant spots on her lungs. Her X-rays reportedly show "benign shadows," or so she is made to believe. The immediate family do not want her to know the truth about her condition.
Her granddaughter Billi, who grew up in New York City and is thoroughly Americanized, doesn't agree with that decision. The rest of the family tries to leave Billi behind as they go back to mainland China to visit the grandmother, but she follows anyway and asks the expected questions: "What about her individual rights? Isn't it illegal to withhold such information? What if she has some last details she would want to take care of if she knew she were dying?"
But no. The rest of the family agrees to enter into a charade in which they act as if the reason they are all coming back to China is to celebrate the marriage of the grandson, who has in fact been seriously dating a Japanese girl for only three months.
The grandmother, of course, is overjoyed at the prospect of seeing her scattered family return home and of hosting a wedding celebration, although she is not so sure about this Japanese addition to the family. And despite their sad faces and behind-her-back anguish, grandma is persuaded that the return is as presented. She goes about arranging for a bountiful reception for family and many friends.
The Chinese explanation for the deception serves as stark contrast in the film between the cultures: Chinese people aren't regarded as individuals to the extent that they are so clearly in America, but rather as a member of a family structure and a social community. One's life is part of a whole, and no one wants to tell grandma that she will soon be leaving this world and bring her sadness in her last days. In China, a diagnosis of cancer means certain death, we are told.
Yet despite the depression felt by the family, their love for their matriarch shines through, and there are the universal family interactions of anger, laughter, grief, memories and regrets. The film is both deeply personal and can be universally appreciated for its sweetness and familiarity.
China has modernized physically. Billi finds that her old neighborhood has been replaced by a forest of high rise apartment buildings, none quite completed yet, and modern highways link the city. That is a measure of how long she has been separated from her roots. But can there be a "good" lie? Billi will effortlessly lie on her phone to her grandma about whether she is wearing a hat to ward off the cold in Brooklyn, but she is deeply troubled trying to bridge the cultural big lie that is at the heart of this film.