Between You and Me: The year that was at TBR, with more to come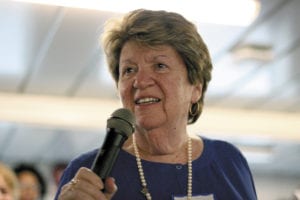 By Leah Dunaief
The end of the year has snuck up on us. Have you noticed that the pace of the passing years seems to have accelerated? This is our last regular issue for 2018, and it seems fitting to take a bird's-eye look at where we've been and what lies ahead.
Most immediately coming are the next two issues of special note, that of Dec. 27 and Jan. 3. The first is People of the Year, and we call it our only all-good-news issue. This is the 43rd year we are honoring outstanding residents for going that extra mile and thereby helping to make our hometowns the special places they are. In doing so, they quietly elevate the quality of our lives.
We solicit nominations for this issue from you, our readers, community leaders and neighbors. The editorial board meets with focus groups in the last quarter of the year over breakfast or lunch to discuss nominees and to further inform us of what is happening here, sometimes quietly, sometimes not so much. It is a treat for us to interact with the community on such a pleasant mission. We also get suggestions via emails, texts, phone calls and even an occasional petition; our Facebook, Instagram and Twitter accounts are available, too.
We then take those names back to our conference room and amid lively discussions, select those whose stories we print in the People of the Year issue. Sometimes the ones that don't fit become feature stories we run in the new year. I have been told that there are collectors who have all 43 issues. What a shelf life!
The second, the Year in Review, is new this year and is done in pictures in a kind of Life magazine treatment. It is on special white stock to help enhance the photo reproduction and is in full color. Life magazine — for whom I worked when in my early 20s and is no more — eat your heart out! A chronology of the way we were, we suspect that it, too, will have a long shelf life. 
Some special offerings of this past year certainly should include our first full-length movie, "One Life to Give," which was screened in June at the Staller Center for the Arts at Stony Brook University to a full house of more than 1,000 viewers. The story follows the early years of the Revolutionary War, specifically through the lives of Nathan Hale and Benjamin Tallmadge, and the start of Washington's Culper Spy Ring that was headquartered in Setauket. 
I am pleased to be able to tell you that we have filmed a sequel, called "Traitor," that takes place four years later. It is now 1780, and with great luck the Patriots have captured British spymaster, John André. Again Tallmadge is central to the plot that reveals the discovery of Benedict Arnold's betrayal and the ultimate fate of André. It will be screened in the spring and you will all be invited.
Another first for us this past year was the Cooks, Books & Corks event at the Bates House off Main Street in Setauket. Many local authors came with their books for sale, and many local restaurants came with their specialties for tasting on a sweet summer evening. There was wine and unending good food for both the body and the mind. Our engaging headline speakers were Guy Reuge from Mirabelle Restaurant, internationally famous naturalist Carl Safina and the inspirational dean of the School of Journalism at SBU, Howard Schneider. The event raised money to fund a journalism intern next summer. In answer to the many times we have been asked, yes, we are planning to do it again.
A new print offering this past year was the sleek Washington's Spy Trail booklet. In 1790, Washington took a slow, ceremonial coach trip along what is now 25A, from Great Neck to Port Jefferson, to honor the Setauket spies who had contributed so much to the victory of the colonists. The booklet marks the route, which this year sports road signs, with information about various points of interest along the way. We will again be publishing the story with updates.
I am running out of space, but there was a lot more that we innovated this past year with much more to come in 2019. Meanwhile thank you for your participation. We could not do any of this without you.