By Leah S. Dunaief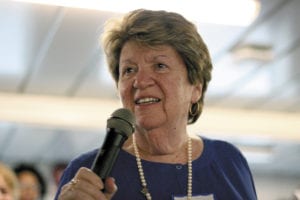 Listen, my children, and you shall hear
Of the midnight ride of Paul Revere,
On the eighteenth of April in Seventy-Five:
Hardly a man is now alive
Who remembers that famous day and year.
So begins Henry Wadsworth Longfellow's poem, "Paul Revere's Ride," about the famous midnight gallop that happened 244 years ago. The poem was first published in The Atlantic Monthly on January 1861, and I dutifully learned the first lines as a young student. As a result, every April 18 I think of Paul Revere. 
Who, exactly was Paul Revere?
I know that he was a talented silversmith because I have seen some of his work, starting with teapots and engravings, at antique shows. I also assumed that Revere was an ardent colonialist, hanging out with the likes of Samuel Adams and John Hancock, to whom he rode through the night in Concord to warn them of imminent capture by the British troops. That was about it until I did a little research, and here is what I found.
Revere was born in Boston on either Dec. 21, 1734, or Jan. 1, 1735, depending on different calendar conversions. That still makes him 40 years old that famous night. His father was Apollos Rivoire, a French Huguenot immigrant who had come on his own at the age of 13 to the New World and eventually married Deborah Hitchborn, the Boston-born daughter of an artisan and wharf-owning family (whose last name was also spelled Hichborn and Hitchbourn). Revere, the third of 12 children, attended school from age 7 through 13 and then learned the silversmithing trade. He was married twice, having been widowed in 1773 and remarried that same year, which means he was little more than a newlywed the night of the ride. 
In addition to his work with silver, Revere did some dentistry to augment his income. He participated in the Boston Tea Party, during which Bostonians threw tea into Boston Harbor from the holds of ships anchored there to protest against parliamentary taxation without representation. 
The colonists were increasingly angered by severe taxes imposed on them by their mother country to help repay the considerable debt Britain had incurred from fighting the French and Indian War. Revere, as a rider for Boston's Committee on Safety, had devised a system of signals with lanterns to communicate the whereabouts of the British soldiers. Hence that night, the message was, "One, if by land, two, if by sea." In a sense, Revere was Boston's first media man.
With others, he was aware that the British troops might shortly be on the move because on April 16, 1775, he rode out to Concord, Massachusetts, to urge the patriots there to move their military stores to a different location.
On the night of April 18, Dr. Joseph Warren told Revere and William Dawes that the king's troops were about to embark in boats from Boston to go to Cambridge, and from there to Lexington and Concord by road that night. Revere borrowed a swift mare named Brown Beauty, and waited on the far bank of the Charles River for the signal from the steeple of the Old North Church. Revere and Dawes made the ride from different locations should one of them be blocked from leaving Boston.
Revere, however, had the benefit of a distinguished publicist, Longfellow, who honored him accordingly. Also left out of the story was Dr. Samuel Prescott, who rode on to Concord after Revere was captured by a British patrol in Lexington. Revere soon escaped, while Dawes lost his horse and had to walk back to Lexington. But Prescott made it through to carry the warning.
Revere and the others surely did not yell, "The British are coming!" despite tales to the contrary. They were, in the final analysis, all British. They probably said, "The redcoats are coming!" and they surely didn't yell since British troops were stationed throughout the countryside. Such is the mystique of history. 
But "that famous day and year," we know from ensuing battles, is true and to be celebrated this day.