When a television show narrator fondly remembers his favorite hometown delicatessen, it turns into an opportunity of a lifetime for the deli's owner to showcase his signature sandwiches.
The Se-port Delicatessen, located at 301 Main St. in East Setauket, will be featured in the Sept. 17 episode of Travel Channel's "Food Paradise" in an episode titled "Bun-Believable." Owned by Wisam Dakwar, the deli is a favorite of many in the area, including former resident Jesse Blaze Snider. The oldest son of Twisted Sister front man, Dee Snider, and 2001 Ward Melville High School graduate is the narrator of "Food Paradise." When he was younger, Jesse Snider was a frequent visitor to Se-Port.
Jason Levine, co-executive producer of the show, said the deli was a perfect choice.
"Our host Jesse Snider grew up going to Se-Port Deli with his family," Levine said. "There's a sandwich called 'The Snider' on the menu, and he's been going there for approximately 20 years at this point. And, anytime we can incorporate that much love from our host into a childhood favorite we're going to go for it."
While Dakwar and Levine couldn't discuss the sandwiches featured on the Sept. 17 episode taped earlier this summer, Dakwar said years ago the television narrator created his namesake sandwich that includes honey mustard, bacon, chicken salad, and melted mozzarella on a toasted garlic roll.
Dakwar said it was great seeing Snider again, and he was honored he appeared on screen to eat the sandwich. According to the deli owner, Snider usually only provides the voice-over and doesn't appear on screen.
"I've known Jesse since high school, and his dad," Dakwar said. "The whole family, they grew up here."
The deli features specialty sandwiches bearing the names of other well-known residents — especially sports figures — including Mets pitcher Steven Matz, a 2009 graduate of Ward Melville. Dakwar said recently he received a call from Matz to deliver 35 sandwiches and Se-Port's iced tea to his teammates at Citi Field in Queens.
For many, television appearances and recognition from sports figures may equal the American Dream. Dakwar has achieved the dream through hard work and long hours. He said when he emigrated from Israel to the United States in 1991 he worked at his cousin's deli in Islip every day and played violin at Middle Eastern clubs in New York City at night to earn additional cash in order to save up for his own deli.
"I always wanted to own my own business," Dakwar said. "I'm a workaholic. I'm not scared of working and nothing comes easy, I know that."
Dakwar bought the Se-Port Deli and the building it occupies in the late 1990s and renovated it. Originally the delicatessen was approximately a quarter of the size it is now until he expanded when a TrueValue hardware store next to the deli closed. The Old Field resident, who only takes off Easter, Thanksgiving and Christmas, still works days and nights.
Dakwar said while working with his cousin he gained the knowledge to run a deli business, and he also improved his English language skills by interacting with customers. He knew very little English before moving to the United States, because being of Palestinian descent and living in Israel, he grew up speaking Arabic and Hebrew.
The single 40-year-old, who became a U.S. citizen in the late '90s, said his parents still live in Israel and visit him once a year for a few months at a time. Dakwar said his parents are proud of the success he has achieved while living here.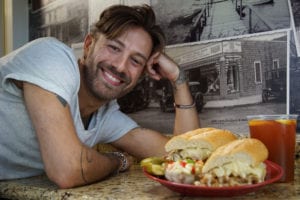 "I'm thankful because I do a lot of business," the deli owner said. "A lot of people come here."
Lately, Dakwar has been busy creating a gyro sandwich, which offers a different taste than the average one by using various meats and ranch dressing. He has plans to install an additional counter where he can offer a wider variety of foods including Mexican favorites.
Dakwar said the day of the taping the restaurant was filled with cameras and the television crew, and he appreciated the customers' patience. Abdul Mustafa who has worked behind the counter for four and half years said it was a good day for the deli.
"The place was packed with people on the day of the taping," Mustafa said.
Mustafa said he and the other deli employees are looking forward to seeing themselves on television. However, Dakwar said he isn't organizing a big screening of the show, because he said he would like to view it in private.
"I'm nervous because I'm not a camera guy," he said. 
The deli owner said he's grateful for his regular customers, and he's looking forward to the exposure the show will give his business.
"I'm always looking forward to seeing new people, new customers from the area," Dakwar said.
The Travel Channel will air the "Bun-Believable" episode of "Food Paradise" Sept. 17 at 9 p.m.