By Leah S. Dunaief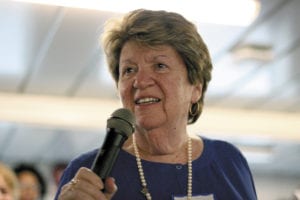 This sounds like a fairy tale, but the latest weapon in the battle against mental illness is a bench. Yes, a brightly colored, sometimes plastic, sometimes wooden magic bench. In this particular instance, a bench can do wonders. It all started as a brainchild of psychiatrist Dixon Chibanda in the far-off country of Zimbabwe, which is just north of the Republic of South Africa.
In Harare, the capital city of Zimbabwe, he was treating a young woman for depression who traveled some 160 miles from her rural home each time to see him. At one point, when she couldn't get to him, he discovered that she had taken her life. That tragedy changed his life.
Zimbabwe is a dirt poor country of some 17 million people with 12 trained psychiatrists, and they are only in Harare. Almost every person suffering with depression does not have access to evidence-based talking therapies or modern anti-depressants. There is not even a word in the Shona language for depression. The closest is "kufungisisa," which means "thinking too much," and is akin to "rumination" or negative thought patterns that often lie at the core of depression and anxiety. Long-term social stress, such as that brought on by unemployment, chronic disease in loved ones and abusive
relationships, is associated with depression.
In the early 1990s, nearly one quarter of adults in Zimbabwe had HIV with no meds to save them. In 2005, strongman President Robert Mugabe's forced slum-clearance program to "drive out the rubbish," known as Operation Murambatsvina, caused the dislocation of hundreds of thousands of homes and jobs. The consequence of such events was widespread depression.
For Chibanda, the challenge was enormous. He felt strongly that had his patient been able to see him regularly, he could have saved her. But how to get mental health care to those who cannot easily access the help? Certainly not in the private clinics that he had planned to start in the city.
As he cast around in vain for government resources, he realized that grandmothers were already functioning since the 1980s as community health workers, supporting people with HIV, TB, cholera and offering health education. They were trained by the government, lived where they worked and were trusted and highly respected. In 2006, they were asked to add depression to their list of treatable ailments.
Chibanda took on a group of 14 elderly women, taught them to ask patients 14 questions, eventually called the Shona Symptom Questionnaire, and if the answers to eight or more were "yes," then psychological help was deemed necessary. Questions included, "Do you feel you are thinking too much?" or "Do you ever have thoughts of killing yourself?" The patients put their answers in writing, and after the first interview, the grandmothers gathered in a circle to discuss each patient and decide how to proceed. Professional help might be sought for the extreme patients, but for the most part, the service provided by these grandmothers of listening and offering wisdom acquired over their years to guide patients to their own solutions to the problems at hand proved remarkably effective.
Where to sit and listen to these patients? Rather than in overcrowded clinics, the answer was on a bench under the shade of an old tree. The benches were placed outside the clinics, in plain sight, and by sitting down on one, a patient could indicate the need for intervention. In 2007, an initial pilot was begun in a suburb of Harare, and by October 2011 the first study was published. By then, there were 24 health clinics and more than 300 grandmothers trained in an updated form of problem-solving therapy. And by 2016, a decade after the program began, the results showed a significant decrease in depressive symptoms.
The Friendship Bench project, as it is known, has spread, with evidence-based approaches, to Malawi, Zanzibar, Tanzania, Canada and the United States; Australia and New Zealand are on the wait list. There is also a program in New York City. Chibanda gave a TED talk in 2016 that has further popularized the Friendship Bench project