By Charles J. Morgan
When dance master Jerome Robbins inspired Arthur Laurents, Leonard Bernstein and Stephen Sondheim to come up with "West Side Story," they in turn went to The Bard for his "Romeo and Juliet," morphing the Guelphs and Ghibellines — that's the Montagues and Capulets of Verona — into the street gangs, the Jets and Sharks. The "star-crossed lovers" became Tony and Maria. This gift to musical theater hit the boards at the Engeman two weeks ago, and the boards are still rattling.
The entire production is built around dance. The pirouettes, arabesques and jetes were neatly comingled with the modern interpretive method to produce a mathematically perfect, yet emotionally penetrating terpsichorean feast.
At the head of all this was the choreography skills of Jeffry Denman and his two assistants Lauren Cannon and Trey Compton, who also acted as fight choreographer. This talented team gave the audience a night of dance the excellence of which your scribe has not seen in his near decade of writing "criticism."
They say that the "devil is in the details" but not in this production. Imagine if you will a six-foot-high chain link fence running from upstage center down to stage left … suggesting urban schoolyards. This "prop" was climbed on, jumped on and over by male dancers of the Jets and Sharks in their attempts to escape … in tempo. They actually scaled the fence, landing on the other side on the beat — an incredible act of choreography.
Overall direction was in the always capable hands of Igor Goldin ("The Producers," "Evita"). If one prescinds from the dance numbers, his blocking and interpretation efforts were carried through with exemplary professionalism.
Outstanding among the dancers were Scott Shedenhelm of the Jets and Karli Dinardo in the role of Anita. Shedenhelm was at his best in "Gee, Officer Krupke," by far the funniest and most clever number in the show. Dinardo scored talent-wise in "America."
The leads were handled skillfully by Zach Trimmer as Tony and Samantha Williams as Maria. Both have fittingly tender voices; he a more lyrical tenor, she a mellow, yet strong soprano. They excelled as the star-crossed lovers.
The leader of the Jets, Riff, was played by Sam Wolf who pits himself and his gang against Bernardo, played by Nikko Kimzin and his Sharks. The battles of Sharks vs. Jets is the dance armature of the play, and these two lead their factions brilliantly in dancing, acting and singing.
Among the musical numbers, the "Jet Song" really set the theme of pride and struggle. "Dance at the Gym" by the whole company brought out the animosity that almost erupted in violence. The tender "Tonight" by Wolf and Williams presented the balcony scene in all its romance. The mordant "America" that also showcased the patent talent of Ashley Perez Flanagan as Graciela, hit hard musically at the state of society in both the USA and Puerto Rico.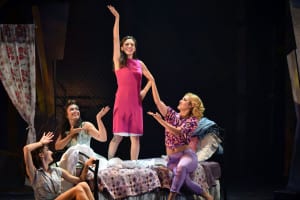 Trimmer and Williams also performed romantically in "One Hand, One Heart." And there was that Officer Krupke number that was most memorable.
The cast also included Mike Baerga, Josh Bates, Christian Bufford, Mark T. Cahill, Nick Casaula, Victoria Casillo, Joey Dippel, Jon Drake, Roy Flores, Eric Greengold, Joan Heeringa, Melissa Hunt, Gregory Kollarus, Leer Leary, Rick Malone, Ashley Marinelli, Kelly Methven, Kaitlin Niewoehner, Joseph Rosario, Tori Simeone and Marquez Stewart who all did a fabulous job.
Piercing live music was led by James Olmstead on keyboard with assistance from Craig Coyle; Robert Dalpiaz and Joel Levy on reeds; the indomitable Joe Boardman on trumpet with Steve Henry and Pete Auricchio; Brent Chiarello and Frank Hall on trombone; bass was Russell Brown with the reliable Josh Endlich on percussion. This ensemble was at its best in the staccato numbers of both Jets and Sharks such as "Dance at the Gym" and especially in "The Rumble."
The Engeman spares no opposition when it produces a massive piece of entertainment like "West Side Story."
All elements of the production including costume design by Tristan Raines, set design by DT Willis, lighting by Zack Blane and sound design by Laura Shubert were masterfully integrated into a sophisticated, articulated and authentic whole.
Many critics a few years back tried to see a "social significance" dimension latent in this show. On TV one described it as "… a slice of New York life." Nonsense, of course. It was Shakespeare with a life of its own as true musical theater.
The John W. Engeman Theater, 250 Main St., Northport, will present evening performances of "West Side Story" on Thursdays, Fridays and Saturdays at 8 p.m., and matinees on Saturdays at 3 p.m. and Sundays at 2 p.m. through Nov. 8. Tickets are $74 on Saturday evenings, $69 all other performances. For more information, call 631-261-2900 or visit www.engemantheater.com.
This version corrects the spelling of Jeffry Denman's name.