The Shelf at East Main officially opened its doors April 19 and welcomed an array of local artists, who all said they were happy for the rare opportunity to show off their work.
The new consignment-style shop is similar to the typical art gallery, since artists show their work and give a percentage of sales to The Shelf.  But, Diane Walker, the new store owner, said that her operation is different, because it's intended to be more encouraging to local artists. 
Kyle Kubik, Walker's son and an artist himself, said people were coming in at the last hour to get their work on display.
"There's no out of pocket expense to them, and it's up to us, and them, to promote the venue," Kubik said.
Walker, a 25-year resident of Mount Sinai, opened the shop to try and give those artists the opportunity to really flesh out their passions in a noncompetitive space, something that gives local artists a leg up in an often cutthroat field.
Now that The Shelf is open, here's a small helping of some of the artists who have their stuff on display. All had a similar frame of mind, saying that there are very few spaces like the Shelf where they can display their work without an upfront cost or upfront judgment.
The Shelf at East Main, located at 218 E. Main St., Port Jefferson, is open 10 a.m. to 6 p.m. Wednesday through Saturday. Walker said she expects she will soon start to open up the store for events outside regular hours. More information is available at www.visittheshelf.com.
Kyle Kubik
Walker's son and an artist specializes in making video game and other pop culture inspired shirts and paraphernalia. He often ran the convention scenes and art shows from Long Island to New York City, and his mother saw the hustle that went into promoting one's work as an artist. Kubik called it a gamble when one traveled to such events.
"There's a lot of competition out there, and there's a high barrier to entry," he said. "In my experience with conventions, I've walked out of events with a few thousand dollars in your pocket. I've walked out of events where I'm a thousand short, because I had to travel somewhere. Because of that hot and cold aspect, that's what's difficult for artists."
He added that in some cases, even with quality work, some people simply don't believe their work is good enough to be on display.
"We have macramé, we have knitted pieces," he said. "You could put it up and be in a huge pool of people, or you can be in a local place with people in your community."
More of Kubik's work can be found at: www.kylevonkubik.tumblr.com/.
Crystal Wyllie
Wyllie, a Setauket resident, has been doing ceramic pottery since her college days, and opened up her own small workshop in her parent's garage. She first learned about The Shelf from her aunt, the owner of Cardinal Realty in Port Jefferson, just next door to the new shop. 
"There aren't many places where local artists can show their work in a noncompetitive atmosphere," Wyllie said. "And I think it's incredible to see what our community is capable of creating."
To find more of Wyllie's work, visit: @crystalmariepottery on Instagram or her website at www.crystalmariepottery.com.
Paul Cammarata 
Cammarata is a local photographer, taking his inspiration from the idyllic sights of Port Jefferson, nearby Stony Brook and beyond. His photographs feature alluring destinations, images of classic cars, still lives and nature.
A graphic designer by trade, Cammarata got back into photography in the last few years after being convinced by a friend and watercolor artist. 
"Galleries can cost an artist a fortune — or you don't get the right exposure sometimes," he said. "Hopefully with the way [Walker] worked it out it's a win-win for everybody."
Cammarata's work can be found at: www.fineartamerica.com.
Tracey Elizabeth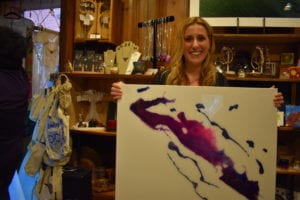 Elizabeth's day job is photography, but she said her true passion is painting. 
To her, the new store is an opportunity not just for her, but for the community of small-town artists who are still looking to break out. It also gives the chance for the local community to see the creativity of their community.
"I live in Port Jeff, so I like that [Walker's] using local artists," she said. "It's helping local artists, and it being a small town it really needs those small-town artists to be represented."
Elizabeth's photography can be found at: www.traceyelizabeth.com.
Paul Motisi 
Motisi works in graphic design, producing designs for shirts, album covers and more. He started doing freelance work out of college, and recently he started creating spray-painted stencil portraits and selling them on Etsy. He has portraits of characters from Rocky Balboa to The Dude from "The Big Lebowski." Now his images sit in person inside The Shelf in Port Jefferson. He said many art shows and conventions can be hard to work with.
"Usually those people are very standoffish — they usually want you to jump through hoops, but these people were just so ready to have people involved," Motisi said. "These places are in short supply."
Motisi's work can be found at his website: www.paulmotisi.com, or at his Etsy page at: www.etsy.com/shop/motisistencilart.