By Bill Landon
It took three overtime periods to decide the Comsewogue girls' basketball team's fate Saturday, when the Warriors fell Westhampton, 59-57, after both teams were deadlocked at 41 points apiece at the end of regulation.
"We all wanted it so bad," Comsewogue junior Stephanie Collins said of winning the game. "We wanted to come out and have a good last home game. We all just gave it our all. We hit some key shots, but I never thought it would go to three overtimes."
The Warriors broke out to a 10-2 lead early in the game before the Hurricanes picked up speed, taking a one-point lead into the second quarter. Comsewogue battled back to outscore its opponent 13-7 over the next eight minutes, to take a 25-20 advantage into the halftime break.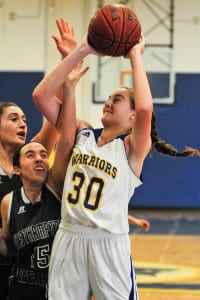 Westhampton scored five unanswered points to tie the game at 25-25, but Collins went to the line shooting two and swished both to help her team edge ahead 27-25 with just under four minutes left in the third.
In the final seconds of the period, with the game retied at 32-32, the Hurricanes let a fall-away jumper go at the buzzer, which hit its mark to help the team edge ahead 34-32 to begin the final quarter.
Collins went to the line shooting two, and again netted both to tie the game at 34-34 with just over five minutes left in regulation. Collins was 9-for-10 at the charity stripe, and led her team in scoring, along with sophomore Nora Gabel. The two hit the scoreboard with 20 points apiece.
Both teams traded points while the clock unwound, and Westhampton hit a field goal to bring the game to 41-41 with 40 seconds on the clock.
With 3.9 seconds left, Westhampton inbounded the ball only to have it picked off by Comsewogue's Sofia Colocho. The Warriors immediately called time out.
With time for one more play, Comsewogue junior guard Megan Turner dribbled to the top of the key, but didn't have a clear look. Head coach Joe Caltagirone barked from the sideline for his team to shoot the ball. Turner didn't like the look, but let the ball fly. Her attempt just rimmed out at the buzzer, sending the game into overtime.
"It was a great effort, especially on a Saturday morning coming off a loss to Islip that officially eliminated us from the playoffs, but they came out with everything they had," Caltagirone said. "Westhampton is very good. They're stingy on defense, so getting them in foul trouble was big, and to be able to come up with some loose ball rebounds."
Gabel was busy at the charity stripe netting both in her overtime appearance at the line, to help her team take a 43-41 lead with 2:47 left to play. Westhampton answered back with two points from the line, and with 43 seconds remaining, Gabel swished two more free throws to help her team retake the lead, 45-43. The Hurricanes tried to counter with their appearance at the charity stripe, but split  the attempts, to make it a one-point game.
Again, Gabel went to the line with two attempts, but missed her mark on one, pushing her team ahead 46-44 with 17.3 seconds on the clock.
Desperate to score in the final seconds, Westhampton tried to force a shot and ended up drawing a foul as the clock expired. Westhampton senior Madison Skala matter-of-factly sank both of her shots to retie the game at 46-46, forcing a second overtime period.
Two of Westhampton's starters fouled out to give Comsewogue an edge, but the Warriors had three players with four fouls.
At the 1:36 mark of the next four minutes, Westhampton edged ahead 50-48 as the clock wound down to 15 seconds. Comsewogue's final shot from the outside missed, but senior captain and forward Toni Ann Velazquez was right there with the putback to kept the Warriors alive for a final overtime session.
"I think we played a hell of a game," Velazquez said. "Although we didn't win, I think it was a great way to end our last home game. That our defense was able to hold them down and not foul as much as they did was very important."
Gabel opened the third overtime period with another pair of free throws for a 52-50 advantage, but Westhampton answered with a pair of field goals to retake the lead, 54-52. Comsewogue freshman guard Julianna Watson took matters into her own hands as she muscled her way to the rim from the paint for a field goal, but the Hurricanes tacked on a three-point play to pull ahead 57-54 with 27 seconds left in the third overtime period.
As the clock wound down to eight seconds, Gabel drained a three-pointer to tie the game, and Westhampton immediately called for a timeout.
"I don't even know what set that up," Gabel said. "It's not a set play, but it was pretty hectic out there, so I dribbled over and found an open shot. We needed three to tie it up, so I went for it, and luckily, it went in."
In the little time remaining, the Hurricanes inbounded the ball and threw deep to the paint, finding the net as the buzzer blared to win the game 59-57. Comsewogue fell to 3-8 in League V, while Westhampton improved to 7-4.
"We had a couple of miscues early that cost us some opportunities early in the game," Caltagirone said. "But it was a great game, a clutch shot by Nora for that three, so it was a total team effort."
Behind scoring leaders Gabel and Collins, Velazquez finished with eight points while Colocho netted five. Watson and Turner rounded out the scoring banking two points each.
Comsewogue will close its season on the road on Feb. 8 against Sayville. Tipoff is at 4 p.m.