By Elof Axel Carlson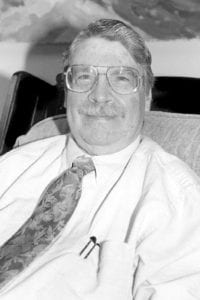 The first time I heard DNA enter popular culture was hearing a record played by my son Anders. I heard the refrain, "Hey hey, hey hey! It's DNA that made me that way." Anders told me it was from a song called "Sheer Heart Attack" by the rock band Queen (1977).  
Since then that idea has spread from teenage rock fans to the public sphere, and in its modified form, I hear "It's in my DNA" when a person feels passionately about an idea. Metaphors are part of how we speak but they are not always scientifically accurate. Before the era of DNA (that began with the publishing of the double helix model of DNA in 1953 by James Watson and Francis Crick), a different set of metaphors were in use going back to antiquity. 
Intense belief or fixed behaviors have been attributed to the intestines (I feel it in my gut), to the heart (I offer my heart-felt thanks), to the skeletal system (I feel it to the marrow of my bones), to the blood (royalty are blue bloods and a psychopath's behavior reflects bad blood) and to the nervous system (argumentative personalities are called "hot headed"). 
Sumerians studied the shape of animal guts and livers to predict the future (haruspicy). Until the Renaissance the brain was thought to be the place where blood is cooled (hence the hot-headed belief). Thoreau was described by one contemporary as sucking the marrow out of life; and blood was considered the vital fluid of life. In the Renaissance the first human blood transfusions were given to provide youthful vigor by old men who believed in rejuvenation.  
When people say, "It's in my DNA" for a behavior, they are conveying a deeply held belief that it is part of their personality as far back as they can remember or that it is innate. But the evidence for innate human social behaviors is often lacking. There are single gene effects of the nervous system that are well documented such as Huntington's disease, which leads to dementia and paralysis with an onset usually in middle age. 
There are also family histories of psychosis and learning difficulties. The fragile X syndrome is one such well-documented condition that leads to low intelligence. But human social traits have lots of inputs from parents, siblings, playmates, neighborhoods, regional culture, ethnicity and national identity.  
Children growing up in poverty have different expectations than children whose parents are well off and send them to elite schools. Each generation uses, as best as it can, what it knows. Our knowledge of many important aspects of life and behavior is incomplete. Hence, we keep modifying our interpretations of how life works.  
Much of what is called evolutionary psychology or genetic determinism will be modified or abandoned in years to come as we learn how our genes use memories and other acquired knowledge to shape our personalities. For many cellular processes we know the flow of information from DNA (genes) to cell organelles to cellular function to tissue formation and to organ formation.  
That detailed interpretation of human behavior is not possible now for social traits. I would love to say, "It's in my DNA" to write these Life Line columns, but my conscience would remind me that it is based on Freudian "wish fulfillment" and not careful experimentation down to the molecular level.
Elof Axel Carlson is a distinguished teaching professor emeritus in the Department of Biochemistry and Cell Biology at Stony Brook University.