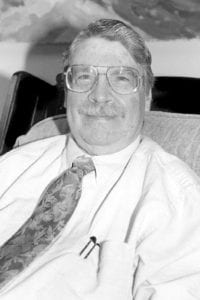 By Elof Axel Carlson
When I went to NYU on a scholarship in the Fall of 1949, I was assigned to a freshman English class. The first day when I walked in, I was surprised to see my instructor was African American. He was getting his PhD in NYU's English Department.  
Each week we prepared a one-page theme.  Mr. Charles T. Davis would grade these and add his notes on how effective our themes were. He read short stories and essays by published writers pointing out what made them a delight or informative to read. He then would use our themes and do the same analysis for them, always emphasizing how to write well and to get one's ideas across as gracefully as we could summon our skills. 
Professor Davis selected one of my essays for an annual publication titled Good Themes that the English Department gave to all the students taking freshman English. He would greet me over the next three years whenever we ran into each other. He would often invite me to have a cup of coffee at the Chock Full o'Nuts across the street. 
He helped me when I was discouraged and began to think of switching to an English major. He told me not to; that I would discover graduate school was a very different experience and more creative. He asked what I was reading and said that most of my reading was in non-fiction, especially the sciences and this is where  my interest really was even if I was down in the dumps at this time.  
Over the years I followed his career. He was the first African American Professor hired at Princeton. He went on to head and develop the African-American studies program at Yale. His most famous student was Henry Louis Gates Jr. with whom he edited two volumes of works by African American authors. 
When  my son John was accepted to Yale, I introduced him to Professor Davis who mentored him in his first year. Sadly, it was my son who broke the news that Mr. Davis was dying of cancer. 
I owe to Charles Davis many habits I used in my own relation to students. I took them to coffee or lunch and insisted on paying the tab. I encouraged those who came to see me during office hours. I tried to be a mentor and a scholar and  lived up to the model Davis exemplified. He showed that no race has a monopoly on the goodness, compassion, intelligence, or talents that are within all of humanity and can be nourished by those who model themselves on the best of what  humanity can offer.  
Elof Axel Carlson is a distinguished teaching professor emeritus in the Department of Biochemistry and Cell Biology at Stony Brook University.