By Daniel Dunaief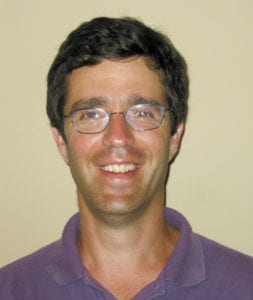 Rufus is not sure what to do. He's never there first. He circles the yard carefully, looking back at the fence. Bob sits in his usual seat at the picnic table, talking on his phone.
He doesn't want to run before the others arrive. He sits under a tree, closes his eyes and allows the smells to fill his ample nostrils.
"Hi," chirps Peanut, jumping up to reach his face. "Hi, hi, hi, hi!"
"Back up," Rufus barks, "you're too close."
"Sorry, sorry, sorry, sorry," she says. Peanut repeats herself in that high tone that annoys Rufus. "Even though I can't see red or green, I know that holiday sweater is hideous," Rufus said.
Fifi lowers her head.
"On the plus side," he adds, "your fur looks great."
Fifi prances in approval. She likes it when others notice that she's been to the groomer.
Rufus glances at Andrea, Fifi's human. He likes the way she scratches his ears and looks directly in his eyes.
Finally, the rest of the crew races over, tongues hanging out, fur flying off Oscar as he skids to a stop.
After the customary butt smelling, Oscar, the golden retriever, speaks.
"You had Uncle Doug's sweet potato?" he asks Cole, an apricot poodle. "Does that taste as good as it smells?"
Cole barks his agreement, although he eats it so quickly he barely tastes anything. "And you had asparagus," Cole says to Rufus.
Rufus sticks out his tongue. He doesn't get his usual treat from Bob during Thanksgiving unless he has a few pieces of asparagus, which he hates.
"Stories?" King demands.
A French Mastiff, King regularly reminds the group he has the shortest life expectancy so he can't waste time on food chatter.
"Bob's got a new girlfriend," Rufus starts. "She reminded him to walk me earlier than usual. She makes him shut the bedroom door, but she makes up for it by giving me more leftovers."
"Nice," barks Roxie. "Glad someone had a good holiday."
"What? What? What?" barked Peanut.
A basset hound, Roxie hates her name and her short legs. Her ears also annoy her because they fall in her water when she drinks
"My family had a huge gathering," Roxie barks. "These new kids thought they could teach me to fetch. I don't fetch. Do they think I'm a golden retriever?"
"Hey!" Oscar barks.
"No offense," Roxie adds. "What about you?"
"Aunt Linda spent the entire dinner saying she shouldn't eat garlic. She didn't listen to herself and was in the bathroom for an hour, groaning and cursing. How about you, Cole?"
Cole is among the tallest dogs at the run, particularly after he went to the stylist. Cole wanders over to the water bowl, with the rest of the group following closely.
"Cole?" Fifi asks. It is one of the rare times she doesn't repeat herself.
"We watched movies in the dark," Cole shrugs.
"There's more," says Rufus. "What's going on?"
"Audrey looked out the window and wiped her eyes all weekend," Roxie says. "She kept whispering how much she missed her brother."
"What happened?" Oscar asks.
"I don't think she's going to see him again," Cole says. "When I leaned into her legs, she ran her wet hand over my face. Other than a few walks, she spent most of her time on the couch. She barely ate, so I didn't eat much, either."
"Sad, sad, said," barks Fifi.
Rufus agrees.
"You did what you should have done," King says, the folds under his lips turning down. "You're going to help her and we're going to need to help you."
"Help? How?" Oscar asks. Whenever Oscar became anxious, he circled the water dishes at the run. He knocks one over.
"My bad," he says.
"Cole drinks first," King says. "And we let Cole go to Andrea before the rest of us. We all know she's the favorite human."
Fifi nods, indicating she would share.
"How about you, King?" Rufus asks.
"It was great," King says. "My family welcomed a new baby. At first, they kept me away, but they slowly let me see him. We're going to be friends."
"How do you know?" asks Cole.
"He touched his hand to my nose. It was soft and wonderful. He made me feel so young," King adds.