By Fr. Francis Pizzarelli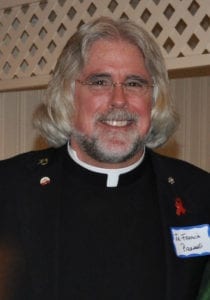 Once again the holiday and Christmas season is upon us. For Christians, this is a season of hope. If we've ever needed hope it is right now.
The political landscape around the world is explosive. Violence, hate and human exploitation seem to be everywhere. At home, although economic prosperity is growing, respect for human rights and the diversity of people is at an all-time low.
Our elected leadership, at every level starting with Washington, is scandalously lacking. Our human discourse is a disgrace. It is a sad day in America when people with differing viewpoints have to deteriorate to name-calling and ad hominem attacks because they have differing opinions. What happened to rigorous debate ending in agreeing to respectfully disagree and remain friends?
This holiday season we have been painfully reminded of the abuse of power and the abuse and misuse of human beings especially the human exploitation, abuse and harassment of women.
What are we teaching our children? What life lessons are they learning? What happened to leading by example? It is shameful that those elected to public office have remained painfully silent when it comes to the disgraceful and abusive behavior especially from those who possess the ultimate power.
Despite all of this, we still celebrate the season of hope — the hope that change and transformation are possible; the hope that in most human beings there is a reservoir of compassion and goodness. I am fortunate in the midst of all this chaos to witness every day the magic of Christmas-simple, ordinary wounded people reaching out and touching others with love and goodness.
For more than three decades I have lived among the most broken among us. I continue to stand in awe as I watch these young men change and transform their lives and others.
Over 30 years ago, a young lawyer named Charlie Russo founded an organization, Christmas Magic, to celebrate the true meaning of Christmas for his children. Never did he think all these years later that a simple organization would ultimately become a powerful not-for-profit outreach that touches thousands of young children in our bi-county shelter system each Christmas.
It has also become a wellspring for thousands of volunteers who share their love at this time of year. It is a concrete reminder for all of us of what the real reason for the season is. Russo's powerful example is an inspiration to all those who are privileged to know him.
Every year the residents of Hope House with whom I live participate voluntarily in Christmas Magic. To witness firsthand these wounded young men reaching out to the poorest of the poor among our children is a powerful life lesson.
Seeing these struggling young people interacting with little children, holding their hands, watching the children open up their Christmas presents from Santa, seeing the tears in their eyes as these little ones say thank you is probably among the best Christmas presents for which one could hope.
So despite a nation that has lost its way and a government that seems narcissistic, this is still the season of hope. The real miracle of Christmas is things can get better if you believe! I do believe! This holiday season let hope become the anthem of your soul!
Fr. Pizzarelli, SMM, LCSW-R, ACSW, DCSW, is the director of Hope House Ministries in Port Jefferson.