By Daniel Dunaief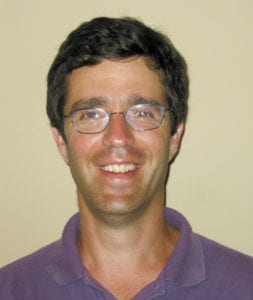 I have had one of those weeks where the phrase "It's a small world after all" applies.
Let's start with events from over three decades ago, shall we?
I had spent considerable time with Michelle when I was in college, as we both loved biology and studied coenzymes together.
I had met Michelle's father several times, mostly when a group of us visited her house. Her father, who was a doctor, was a wonderful host.
I had also met Michelle's father's partners in his medical practice. We spoke to each other on a first-name basis.
One of his partners and I were in a spacious kitchen as the sun was setting over a nearby hill. The partner asked me my last name.
When I spelled it out, he studied me closely.
"I had a roommate in medical school with exactly the same last name," he said.
I held my breath.
"His first name was Ivan."
A small electric shock worked its way through my body.
"That was my father," I replied.
"Was?" he asked.
My father had died months earlier after an exhausting and painful battle with cancer.
I hadn't developed "reporter" mode, which is what my children call it when questions leap at rapid fire pace from my brain to my mouth. Instead, I tried to imagine this man and my father as roommates in medical school.
I asked a few questions, for which he had short and not particularly informative answers. Later that night, I called my mom to tell her about the interaction. She said she knew the man and that he and my father were roommates and friends for a short time.
That brings me to story number two. I frequently receive pitch emails from people in the field of public relations. These executives from all over the country and the world — including Japan and Australia — email me with ideas to get their clients into the TBR newspapers.
I can't always see a direct link between the coverage of stories in a community newspaper on Long Island and ideas that sometimes seem localized to other parts of the planet. When the connection seems tenuous, I don't always read the emails all that carefully.
Recently, I received one such pitch and, despite not having a strong interest in the subject, read through the entire thing. The public relations executive was suggesting we cover a lecturer, author and authority figure in a particular field.
The first and middle names sounded familiar. When I got to the end of the pitch, where the email shared the person's background, I realized that this woman and I attended the same college.
In fact, when I saw her picture, I immediately recognized her. She looked remarkably similar to how she looked decades ago —so, kudos to her for an ability to defy the effects of aging and gravity. That, I thought as I looked at her wrinkle-free face, could also be a topic she shares with audiences at conferences.
She not only attended college at the same time and place, but was in the same dorm for three years. In our sophomore year, I was her Secret Santa, which means that I bought small gifts for her and asked friends and roommates to leave them surreptitiously outside her dorm room. It's a fun gift exchange and improves mental health during exams and amid shorter daylight hours.
One night, I sat at a dinner with my friends, before the "Secret Santa reveal," suppressing a satisfied smirk as her roommate described what a wonderful Secret Santa her friend had.
Her roommate quoted from the poem I had left her (in my roommate's considerably more aesthetically pleasing handwriting) with a bottle of bubble bath. Wouldn't it be funny if the secret to her youthful appearance were bubble baths, which she started using many years ago after getting an inexpensive Secret Santa gift? Probably not.
Either way, it's a small world where unexpected connections can and do crop up, even in random emails.