Plain Talk: The emergence of a spirit of hope
By Fr. Francis Pizzarelli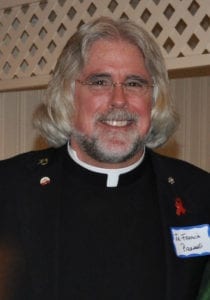 The summer is fast approaching. The pandemic continues to paralyze the world and our country. However, there genuinely is a spirit of hope that is emerging. 
People need to stay focused. Unfortunately, the mixed messages coming from Washington make it difficult at times for people to believe. We should not get distracted by their incompetence. Listen to the professional voices who know, who are reminding us to be cautious, careful and respectful.
In the midst of all of this chaos and craziness how blessed we are with the random acts of kindness emerging all over the country in every state of our union. Locally, there have been countless signs of gratitude to our medical community and their support staff, to our first responders, EMS workers and our police. We are grateful to those that are staffing our food stores and other essential services, risking their lives every day so that our lives might be safe and reasonable.
There will be a time in the future where we will look back upon this pandemic and be mindful of the life lessons it has taught us. This virus was not man-made; it came upon us because of our planet. It is a powerful reminder that we need to be more attentive to the environment and environmental issues. We need to be conscious not to senselessly pollute the air and our water. We need to be mindful of climate change and global warming and act sensibly to protect the earth and the lives of future generations.
One of the powerful life lessons we need to reflect upon is we are America, not the people who we have elected. It is time for us to lead, to stand up, to be counted and to challenge the bureaucrats to build bridges and not walls; to bring us together like so many ordinary Americans have done across the country during this time of crisis. 
I have been inspired and encouraged by the powerful witness and example of ordinary Americans sharing, caring and reaching beyond themselves to help others and expecting nothing in return!
On April 28 more than 100 cars, motorcycles and bicycles gathered in the parking lot of the North Country Road School in Miller Place. This spontaneous caravan of people of all ages and from all places came to celebrate the birthday of a very courageous man within our community, Dr. Christopher Pendergast. He is a teacher, a scientist, a researcher, a writer and a powerful symbol of hope in a world that often hovers in despair. We gathered on that Tuesday to celebrate his 71st birthday. Twenty-eight years ago he was diagnosed with ALS. He wasn't expected to live but just a few years. His courage, his tenacity and his love of life have sustained him during these past challenging years.
Today, although very disabled, he continues to be a beacon of hope for all of us who are privileged to know him and spend time with him. He continues to raise our consciousness about the importance of ALS research and leads by example. How fitting for this spontaneous caravan with signs and balloons to surprise him and drive past his house to say thank you for his gift of life! That's the real America I believe in.
Fr. Pizzarelli, SMM, LCSW-R, ACSW, DCSW, is the director of Hope House Ministries in Port Jefferson.