Plain Talk: Remembering a dear friend
By Fr. Francis Pizzarelli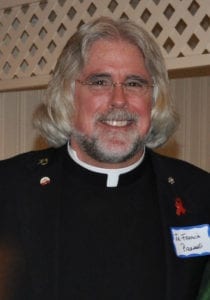 On Wednesday, May 10, 2023, in the early afternoon, a local icon died of a massive heart attack at the age of 51; his wife found him sitting in his office chair. A local EMS worker who lives down the street came running and tried to revive him. He had already passed; I arrived just after he was pronounced.
Matthew "Matt" LoNigro left his lovely wife Julia, a local tenured schoolteacher and two extraordinary children: Matthew Jr., 20, and Abigail, a 16-year-old student at Miller Place High School. Matt was very actively involved in the Miller Place school district as the dynamic director of the Miller Place Boys Lacrosse.
Lacrosse was one of his many passions. For many years, he was actively involved on the Board of Directors for Suffolk County PAL Lacrosse. During his early career, he was actively involved with Port Jefferson Sporting Goods, a family business. He was a salesman for school districts seeking sports equipment and sports uniforms. He was such a dynamic salesman; he probably could've sold the Pope the Brooklyn Bridge.
Matt spent most of his adult life doing for others. He was actively involved with Christmas Magic, Backpack Pirates and countless other activities that reached out to the disadvantaged in our larger community. If somebody was in trouble and needed good advice and/or a helping hand, Matthew was the go-to guy. He was a tremendous mentor for young athletes who wanted to be lacrosse players.
We have lost a powerful example of what community and reaching out to others is really supposed to be about. These are crazy times. We need more people with Matt's passion and commitment to helping others, with the purpose of giving back. His heart and random acts of kindness were the hallmark of his life.
I first met Matt when he was in middle school. As most know, he was part of a very large loving family. It was his family that taught him how to love and to be of service to others. Like many young men in their 20s, Matt struggled. He spent time living with me at Hope House. Even during those struggling days battling conflict, he was a power of example for the men he lived with.
When Matt completed our program, he started giving back and has not stopped for more than 20 years. Before he passed, he would come by every week to encourage the men in our community; especially those who were struggling to stay the course. His power of example that life can be better and one can change inspired so many over the years to take the risk to embrace change and transformation. 
There was not a week since Matt lived with our community that I have not received a text or visit always making sure he ended both with "thank you for saving my life!" The world is a better place because Matt LoNigro walked among us. His power of example and his profound gratitude will live on to inspire so many others to embrace the process of change and transformation and to realize that they too can make the world a better place. 
Father Francis Pizzarelli, SMM, LCSW-R, ACSW, DCSW, is the director of Hope House Ministries in Port Jefferson.