Life Lines: Living with limits is what it's all about
By Elof Axel Carlson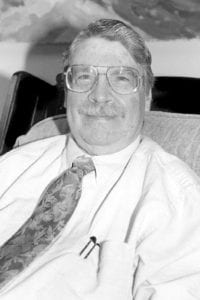 Some of my friends and relatives since I was a high school student have told me that I know a lot. In one sense I do because I have an excellent retentive memory and can recall isolated facts that struck me as interesting at the time. 
In my high school history class, my teacher Mr. Emil, was groping for the name of a German reverend who opposed Hitler and was imprisoned for his preaching. I raised my hand and said, "Was it Pastor Niemöller?" I was looked upon as a freak by my classmates because I recalled this from listening to a radio program with my father and brother called This is the Enemy. 
I identified this talent as having "a flypaper memory." If it's significant to me, it sticks in my head. Of course, I also read a lot and since my father bought a set of the Encyclopedia Britannica when I was born in 1931, I browsed through it on rainy days and amassed enormous trivial knowledge from Japanese bonsai gardens to a graveyard (necropolis) of embalmed cats mummified by ancient Egyptians who worshipped a cat goddess, Bubastis (or Bastet).  
What I have learned over all these years of reading widely is that it would take centuries to read all there is to know of the known world and that as much as I have learned over the 88 years of my life so far, only gives me a small amount of the knowledge that exists.  
Furthermore, we don't know how much of the universe works, whether it is life or the earliest stages of the birth of the universe. We don't even know how many laws of science are yet to be discovered. 
But look at it this way. We live at best some 90 years today. Of recorded history (3000 years), that's about 3 percent of the time humans have accumulated knowledge and written about it. No single person can read all the books in the Library of Congress, or the British Museum or the Vatican Library. This means when we try to solve concerns in our own lives and times, we are limited in the resources we can reasonably read relevant to what we want to do or solve. 
In a democracy we are diverse and have competing needs and priorities. We do as best we can with what we already know or with the help of others who know more than we know because their interests are slightly different from ours. It is this pooling of knowledge that allows us to do better than trying to "reinvent the wheel" each time we come across something new in our lives or our country's experience. 
Complicating our ability to solve problems is the way we accept or reject evidence or information. We filter knowledge through mental prisms that include our religious beliefs, our ideological beliefs (liberalism versus capitalism, democracy versus authoritarianism, patriotism vs  criticism of government policy), or our professional habits (debate and amassing one sided briefs for those in legal professions including politics) and the apparently inconsistent findings science provides through experimentation and evidence (radiation is good for diagnosis and treatment but it also can cause harm to healthy cells or mutate genes in our gonads and pass them on to future generations.  
We like to have simpler ways of seeing things and doing things. But reality is often more complex, more intertwined with other things that make a simple approach difficult and often strewn with unintended consequences.  People who dump waste in rivers and lakes I believe are sincere when they feel that nature heals itself. But being sincere is not the same as being right and we have numerous episodes of smog, polluted rivers that kill off fish and other life in them and make our drinking water contaminated with toxic chemicals. People are sincere also when they feel God looks after us or that the virtuous are spared in natural disasters .
Would 500 people huddle in a church during a tornado or would they rather be in several hundred separate underground shelters? The more complex the issues are in society, the more likely is it that there are no simple responses to them, and we need to listen to many and go with the best that we have available from our collective knowledge.  Unfortunately, informed debate is not always what we experience at the political level where decisions are made.  
Elof Axel Carlson is a distinguished teaching professor emeritus in the Department of Biochemistry and Cell Biology at Stony Brook University.