By Alex Petroski
The Revolutionary War leapt from the textbooks and onto the fields of Northport Middle School during an afternoon performance on Monday.
The school's seventh-graders were treated to a day of fresh air and visual demonstrations by Boots and Saddles Productions, a Freeport-based group that specializes in "living history."
Principal Tim Hoss said about 250 students attended the "in-house field trip."
"What better way to learn then being immersed in it?" Hoss said.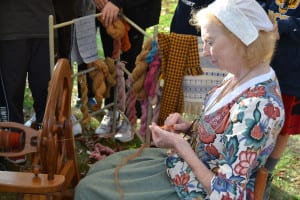 The students were split into groups and spent time at the five different stations set up by re-enactors.
Gen. George Washington, rebels and British soldiers greeted the students with tales of betrayal to the throne and last ditch pleas to join the Redcoats. A female re-enactor taught kids about the role of women during the Revolution.
The students had the opportunity to ask questions of the re-enactors, pass around props and hear deafening blasts from prop guns.
"They're actually interacting with us and they're showing us, not just reading out of a textbook, so we get to hear from them how it was," Griffin Crafa said. "Now I can actually see it. I heard it, so it's in my mind, whereas in the textbook you have to just copy notes down and … it doesn't really stay in your mind."
Meghan Sheridan said she had fun and Cami Tyrer, referencing the loud musket shots that echoed across the Northport Middle School playing fields, said, "It was a blast, and we learned so much."
Social studies teacher Barbara Falcone, who organized the event for the second consecutive year, was happy with how the day turned out.
"This is what real learning should be like," Falcone said. "They're getting out from behind those dusty computer screens. They're being outside and they're seeing from all of these people what real life was like during that period."
Falcone said the students will remember this event for many years.
Re-enactor Joe Bilardello expressed a similar sentiment: "Out here it's like we jumped from the history books."