Between You and Me: Who will be no. 1? A salute to local businesses
By Leah S. Dunaief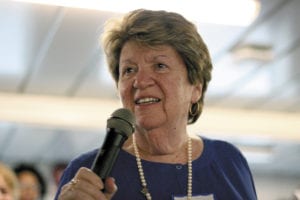 Look for something special in the newspaper and online next week. Earlier in the year, some of you may have noted we ran a contest asking you to write in your favorite business or service on the North Shore by category. We wanted to know your favorite bank, your favorite bakery, favorite hotel, hair salon, nail salon, restaurant, accountant, lawyer and so forth. The entry form, which filled a whole page, could only be found in the newspaper, although we publicized the contest on the web and on our social media platforms as well. But you had to pick up the newspaper in order to vote for your favorites, and we of course did that on purpose to get you to read the paper, which is today an endangered species.
Well, the contest was a big success. We received over 2,500 submissions and we have winners in more than 100 categories, including those that are in ties. We tabulated the answers on our computers and were fascinated by the results. The winners and/or nominators come from as far west as Cold Spring Harbor and Huntington and as far east as Wading River, as well as from Northport, East Northport, Kings Park, Smithtown, St. James, Three Village, Port Jefferson and Port Jefferson Station, Middle Country, Mount Sinai, Miller Place, Rocky Point and Shoreham—our entire North Shore areas of news coverage and distribution. Readers took the time and made the effort to salute their business contacts in this way.
We think our readers will benefit from this information, a kind of recommended list of some of the best businesses in Suffolk County, as they do their shopping and meet their needs around town. The "Readers Choices" will be named in their categories in a pullout section next Thursday, in time for holiday shopping. And we know the various winners are proud to have been singled out in this way. 
It's pretty special to be No. 1 in customers esteem. It means the businesses, services and professionals have some sort of differential advantage over their competitors, and it gives the winners bragging rights and the spotlight to talk about their newest products even as they thank their customers. We, of course, thank the winners who have chosen additionally to advertise all that information in our supplement — although no ad was required of them — and that is part of the reason for the several weeks of space we devoted to the contest. In so doing, we are following the traditional business model that has always supported news media: Advertisers underwriting news for the readers, even as some of that news is about their products and services.
In addition to being named in the supplement, the winners will be invited to a dinner reception at the Three Village Inn in Stony Brook on Wednesday evening, Feb. 5, 2020, from 6-8 p.m. There will be valet parking, a great help in the event of inclement weather. At the historic inn, they will walk up to the podium on a red carpet, be asked to speak for one minute about their business or profession if they wish, and videoed and photographed as they do so. The videos will then appear on our website and the photographs in our newspapers and social media after the reception. In addition, there will be a drawing for the three gift certificates of $150, $75 and $50 to be used in the winners stores or offices by those who sent in nominations.
Tickets to the event may be ordered on our website (tbrnewsmedia.com) after the first of the year, by phone with a credit card (631-751-7744) or by mail (P.O. Box 707, Setauket, NY 11733).
In addition to the winners and their guests, we will also invite the customers who nominated their first choices and the general public in what we hope will be a wonderful show of support for local businesses. They are at the core of our communities and today, as we know, they too are an endangered species.