Between You and Me: Come Aboard With Me to the Adriatic Sea
By Leah S. Dunaief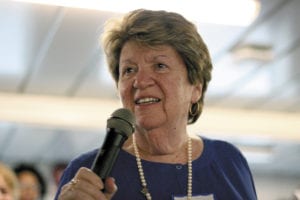 All vacations are wonderful in their own way. A chance to get a break from the daily routine, to rest, perhaps to view new scenery, meet new people, learn new things, even just to get a break from the news — these are hoped-for results. We've just returned from a trip abroad and, as I have done in past columns, I would like to share some of what we saw and did.
We boarded one of the largest sailing vessels in the world in Venice, Italy, after an eight-hour plane ride from JFK International Airport. I won't go into raptures about Venice because it would take up the rest of my allotted space and, besides, I've done so before. I will just say that there were probably more visitors in Venice than there are on any given day in Walt Disney World. Large ships are not allowed inside the harbor, so our small group was ferried to the Wind Surf by small motorboats lined up waiting for passengers along the Grand Canal. 
Let the adventure begin.
We departed at 6 p.m. and set sail to cross the Adriatic Sea, an extension of the Mediterranean, to land on the Dalmatian Coast the next morning. The first city, in the north of Croatia, was Rovinj, pronounced roveen. Croatia is a country often described as being at the crossroads of Central and Southeast Europe and one that is exquisitely picturesque with seaside cities and steep limestone mountains. As you might guess, for being in the center of human history, the country has had many invasions, rulers and iterations of government. Now a republic, it has been a duchy, a kingdom, in a union with Hungary, part of the Habsburg Monarchy, part of Austria-Hungary, part of Italy, then remade after World War I into Yugoslavia until that country finally fell apart into six independent smaller countries after the 1980 death of the autocrat, Josip Tito. 
The countries surrounding Croatia geographically are Slovenia, Hungary, Serbia, Bosnia and Herzegovina, and Montenegro. Croatia joined the European Union in 2013. All of that abbreviated history took place over only the past 14 centuries. The area actually has been inhabited since prehistoric times.
Rovinj is a fishing port on the Istrian peninsula. Surrounded by blue-green, startling clean Adriatic water, its pastel houses crowded down to the seafront, the small city offers a tangle of pale yellow cobblestone streets, lots of inviting bistros and a beautiful Baroque hilltop church, St. Euphemia, whose tower is the highest in Istria at about 61 meters and can be climbed — not by me — for a magnificent view.
The Adriatic is only 120 miles at its widest point, separating what was known as the Balkans from Italy. The coastal towns were often under attack and thus encouraged to build fortified walls along the beachfronts. 
We walked the pebbled beach of Rovinj, bargained in the marketplace for native olive oil and truffles, and bought a couple of scarves made in Italy at cheaper than Italian prices. In fact, Croatia is known as a less expensive tourist destination, where a room in a fine hotel for the night during high season may be had for 50 euros (about $55). So far mainly Germans seem to have discovered this bargain, and they visit Rovinj in large numbers.
The eastern shore of the Adriatic is often referred to as the Dalmatian Coast and the name stems from an Illyrian tribe called the Dalmatae, (from their word "delme," meaning sheep) who lived there during classic antiquity. Dalmatia is even referenced in the New Testament. And, yes, the hardy Dalmatian dogs come from there, whose unique black and white markings make them easily spotted on fire trucks. Dalmatia is one of the four historical regions of Croatia and for a long time was ruled by the Republic of Venice from 1420 until Napoleon of France appeared on the scene in 1797.
One of the frustrations of traveling along the coast by ship is that time spent in any port city is of necessity limited by the schedule of the cruise. After a delicious fish lunch in a sidewalk café, we returned to the ship, with its white sails billowing dramatically in the breeze, then went on to the larger city of Split. More next time.